Meg Liptrot lets us into the secret delicacies of Aotearoa's flora.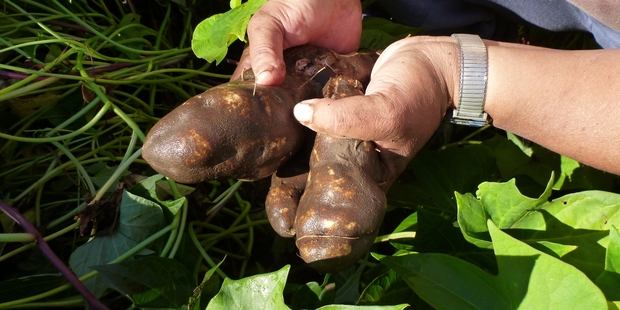 The scent of ripe karaka berries is heady, rich and sweet, a smell that draws you in, as will the smell of any ripe edible fruit. Maori tupuna (ancestors) discovered, when adapting to this new land, that the deadly poisonous karaka kernel could be prepared in such a way that it could be purged of its toxins and it became an important dietary staple.
Even the seemingly inedible, to which many would not give a second glance, were explored for their culinary, medicinal or physical potential, one being the raupo or bulrush.
The young shoots and roots of the plant were once a valuable food source and even the pollen was eaten; 19th-century botanist William Colenso was struck by this, saying: "I have been astonished at the large quantities of pollen then obtained. I had several buckets full brought me by the present chief, Tareha, in his canoe, some of which I sent both raw and cooked to the Kew Museum. In appearance in its raw state it exactly resembles the ground yellow mustard of commerce, and when put up into bottles would be mistaken for it. To use it as food it is mixed up with water into cakes and baked.
It is sweetish and light, and reminds one strongly of London gingerbread."
Many such fascinating accounts can be found in a reading Colenso gave in 1880, On the Vegetable Food of the Ancient New Zealanders before Cook's Visit, available online from the National Library. I was drawn into the world of a learned, broadminded and witty man and his love of this country and its flora.
It would be worth picking up a copy of Peter Well's book The Hungry Heart: Journeys with William Colenso to find out more about his botanical exploits.
Although many native plants were harvested wild, some species were cultivated. As a child I enjoyed walking with my family through old groves of karaka and taraire on our way to a waterhole at Karekare, deep in Auckland's Waitakere Ranges. It turns out these tree species were planted by Maori as a crop and as a way to attract birds for snaring.
Maori vegetables still in cultivation include taro, kumara, taewa (potato), kumikumi and kaanga ma (corn). Scientists are helping to protect and deepen our knowledge of these crops.
Dr Nick Roskruge (Te Atiawa, Ngati Tama-Ariki), an agronomist based at Massey University, is researching the origins of taewa Maori and other crops that were staples of the early Maori diet. Roskruge is also working on identifying healthy virus-free strains of Maori potato.
He travelled to Cornell University in Ithaca, New York, on a Fulbright scholarship last year, visiting other states and locations and meeting indigenous communities to help pull together some ethnobotanical strands on the movement of three key crops - kumara, potato and Indian corn - from different parts of the world.
"I have some genetic fingerprinting happening [in the United States] which will align to some we have happening in New Zealand as well," Roskruge says. This work in progress is helping confirm through oral histories some of the knowledge we already have.
Roskruge believes there are no pre-European kumara left, as the much smaller and thinner varieties which early Maori brought with them were discarded in favour of larger types brought by sealers and whalers. He also says that, although most of the early taewa came with Europeans such as Captain Cook, some may have come before that, depending on which iwi you speak to.
He hints at the possible link to the remains of a European ship dredged up in Hokianga which may predate Captain Cook's arrival of 1769. The book Maori Vegetable Cooking, by Murdoch Riley, says kumara came with Maori on their migratory canoes. Riley references stories about kumara from the earliest times when Maori tupuna first arrived in Kawhia from the ancestral home of Hawaiki. Roskruge, too, says there are many traditional waiata and stories which confirm this.
Kay Baxter, of the Koanga Institute has amassed an impressive collection of heritage potatoes and is trying to grow healthy, disease-resistant lines to help preserve the stock for future generations. To help fund the project, the institute is inviting members of the public to "Sponsor a Spud". Each year, a crop of potatoes is grown, the performance of that potato is recorded and the best line is selected for growing the following year.


How to get involved
• Tahuri Whenua Hui - Maori Vege Growers Collective, Halcombe. February 14 to 16. Non-members welcome. organicnz.org.nz/node/807
• Sponsor a Spud to help preserve our heritage potatoes koanga.org.nz/sponsor-a-spud
See also: Dr Nick Roskruge's Tahua-roa Korare on Maori green veges, their history and tips on their use, is available at libraries.