Everyone needs a mate, even plants and trees, says Meg Liptrot.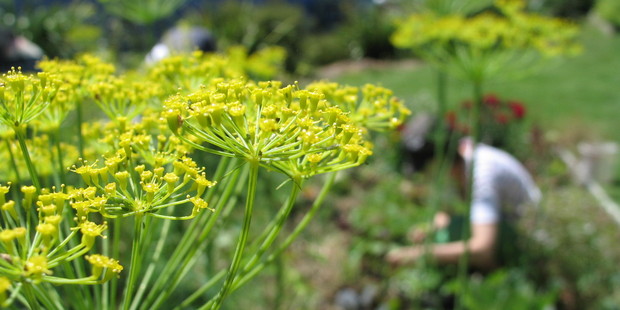 Everyone needs a companion or two and veges and fruit trees are no different. Monocultural crops (where only one plant species is planted) are prone to pest attack. You may as well plant a landing strip for pests and ring the dinner gong. A mix of plants in a biodiverse garden gives us tools to play with, which helps to outsmart bugs at their own game. In addition, certain companion plants boost the health of their neighbours, improving soil and reducing the need to fertilise.
In the home garden, a good approach to keep your garden balanced is to provide a range of flowering plants to cover your bases, attracting a wide range of insects.
When growing veges, the tendency is to plant a row or a block of the same thing, but it is better to interplant with a complementary herb, vegetable or flowering plant. The choice of plant depends on the effect you want. There are ways we can use natural, biodiverse plantings to good effect, tailoring companion planting to benefit our chosen crops.
Pest insects are able to identify the shape and scent of their plant of choice, so we can disguise the plant by growing a differently shaped companion with it. If you combine this with a plant with a different smell, you've got a potent weapon against the pest. The classic example of this is to plant carrots with onions.
The height and scent of the onion plant disguises the carrot from its arch-nemesis, the carrot fly.
In turn, the carrot is actually a companion plant itself. Carrots (along with parsnips, parsley, dill and fennel) are members of the Apiaceae family with distinctive umbrella-shaped flowers.
Sown in an orchard and allowed to go to seed, the flowers attract beneficial insects such as hoverfly, ladybirds and parasitic wasps.
Hoverfly and ladybird larvae are voracious predators, dispatching aphids with gusto, and parasitic wasp species help control aphids, whitefly and caterpillars.
There are plenty of good companion scenarios to try, depending on the crops or fruit trees or flowers you are growing.

Good bugs only
Top plant families for attracting beneficial insects:
Carrot family (Apiaceae or Umbelliferae family)
The carrot family has flat clusters of tiny flowers in umbels. Flowering plants in this family recognised as beneficial insect attractors include Queen Anne's lace, coriander, dill, angelica, lovage, parsley, fennel, and parsnip.
• I often allow coriander to go to flower as it is attractive to beneficial insects. Do the same with dill, parsley or fennel, whichever you happen to be growing. Dill is good to plant with cabbages, as the flower attracts wasps to control white butterfly caterpillar.
• The use of cow parsley or Queen Anne's lace is backed by trials at the Biological Husbandry Unit, Lincoln University. It's an excellent companion planted around apple trees. Wasps, which keep codling moth larvae and leaf roller caterpillar in check, are attracted to the flowers.
Daisy family (Asteraceae or Compositae family)
The deceptively simple solid centre of a daisy flower is actually very complex. There are hundreds of tiny individual flowers in one "daisy". These tiny flowers are perfect for small beneficial insects such as ladybirds, hoverflies, lacewings and small parasitic wasps to sip nectar from. Top daisy family performers include yarrow, tansy, calendula, marigold (also great planted en masse to repel nematodes), echinacea, aster, zinnia, chrysanthemum and chamomile.
• Chrysanthemum paludosum "Snowland" is one of my favourites. I plant it around the edges of vege beds along with alyssum and marigolds. The plant generally lasts a season, which works well with annual vegetables.
• Chamomile is said to be "a tonic" for anything growing nearby.
• Tansy is planted permanently around our lemon tree as a pest repellant, along with comfrey, a great citrus companion. The deep roots of the comfrey plant "mine" the soil, and the leaves decompose over time, making nutrients such as potassium available to the shallow-rooting citrus tree.
Other top performers
• Members of the Boraginaceae family: borage, phacelia and comfrey, plus nitrogen-fixers clover and lupin attract beneficial insects and help feed the soil.
• Members of the mint family and Mediterranean herbs will encourage pollinators to your garden to increase fruit production.
• Cleome acts as a "catch" crop, attracting shield bugs away from your tomatoes and beans.
• Alyssum is a pretty, hardy, low-growing annual (and member of the Brassicaceae family). It is a great all-rounder that can be sown directly into bare soil around fruit trees, or planted in vege gardens. It is a popular choice in organic orchards and vineyards for attracting beneficial insects.
• Bulk quantities of Beneficial Insect Blend seed for orchard and field use, or small packs for home gardens are available at www.kingsseeds.co.nz