Greig Morgan has a plan to keep the sports team hydrated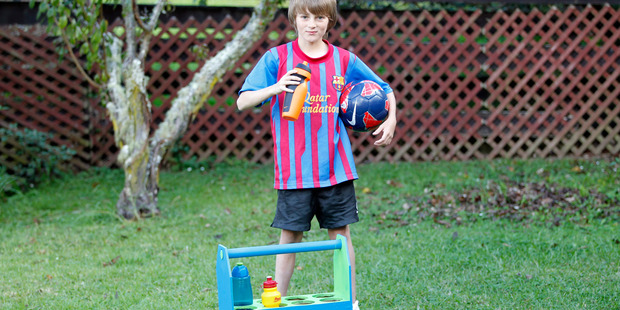 If you're coaching a team there's a lot to think about. Training, stretches, keeping the players fit and sticking to the rules. With so much to consider it'd be easy to let one of the most important aspects of good sport go by the wayside, drinking plenty of fluid. The team will never go thirsty if they keep a sturdy sports drink holder close at hand.

Step 1 - Measure and mark the length and width of the base and top piece, (I made mine 450mm long by 200mm wide, which allowed for eight drink bottles). Using a square, scribe pencil lines to the marks, then with a sharp handsaw cut along the waste side of the lines.
Step 2 - Measure and cut two side pieces to the same length as your base by 150mm high.
Step 3 - Measure and cut two end pieces to fit flush with the side pieces by about 360mm high.
Step 4 - With the end pieces, measure and mark the top centre and mark 50mm either side.
Now measure down about 100mm on the outer edges. This will give you your angles to cut along.
Step 5 - Still with your end pieces, measure and mark down about 30mm from the top centre, then use a hole saw to cut out a hole of the same diameter as your piece of doweling.
Step 6 - With your top piece, measure and mark for the centre length and width. Divide and mark the length again, you should have eight squares.
Step 7 - Measure and mark the centre of the squares and, using the appropriate sized hole saw bit to suit the drink bottles, cut out your holes.
Step 8 - With all of your components cut to size and shape, scribe a pencil line along each side of the base 4mm in. Mark points at even spaces for screws to fix the side and end pieces to the base. Then fix the end pieces to the side pieces.
Step 9 - Fit the top piece in place, flush with the side pieces, and fix.
Step 10 - Cut the handle to fit flush and fix in place from the top.
Step 11 - Plane off all sharp edges, then sand smooth for a nice paint finish.

Materials
• 9mm plywood
• 25mm dowel
• 20mm screws
• 120g sandpaper
• Paint
Tools
• Sharp handsaw
• Screw gun
• Hole saw set
• Tape measure & pencil
• Plane
• Square
• Paint brush
Tip
Make sure to use scrap wood to protect workbench when drilling.