An unusual journey has brought Nansi Thompson to Sculpture on the Gulf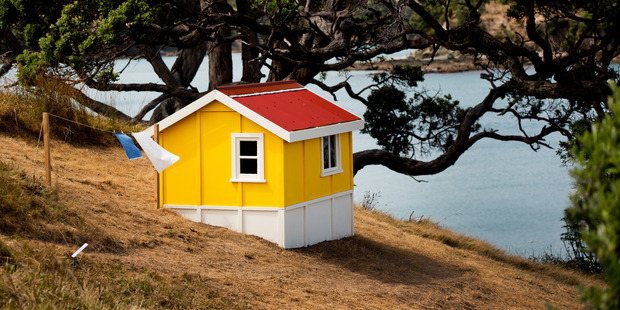 Trying to pin down the life of Nansi Thompson, artistic director of Headland, Sculpture on the Gulf 2013, is like trying to catch a sunbeam. It's as mercurial as the sea breezes that sweep in from the harbour to snatch hats from the walkers who've come to experience the 30 works strung around a world-class coastline.
As we enjoy a pre-walk coffee in the Matiatia pavilion erected especially for the event, I feel slightly envious of her ability to attract adventure. "I'm a girl from Panmure," she laughs, "but my education gave me the choice not to have to do things just for money." It's been a creative ride. Here's a sampler: After she achieved her post-graduate diploma in drama, in the late 80s Thompson lived illegally in her studio in downtown Auckland, dodging security guards to duck out for her morning brew. She trained in the obscure Japanese dance form Butoh, usually performed in the open air, camped out in the Amazon for six months as a volunteer and more recently, took up residence in Milan for 13 years where she curated a landscape architecture show in an old villa above Lake Maggiore and was involved on the fringes of the Milan Furniture Fair. "I'm not an architect or a fully-fledged artist, but I love art and space and those combinations."
Two years ago, she moved to Waiheke with her Italian husband, Ricardo, and the job as artistic director came up just when she needed it. Right time. Right place.
Dressed in a singlet and casual pants, Thompson doesn't look much like my vision of an artistic director. With her straw hat and sun-bleached hair, she should be toting a surfboard - not a cellphone. As we head out on the drive to the start of the walk, Ricardo reminds her to take her packed lunch.
It soon becomes apparent that this has been a physical, hands-on role for Thompson. "I should have worn a pedometer as I'd love to know how many steps I've walked on the track." Toiling alongside the artists during the installation process brought her closer to the people and the land. "Sometimes when I was rushing to do something, I had to remind myself to stop and look at where I was."
Working within nature added an extra dimension. "Every artist selected to exhibit has made something for a particular site. Sometimes the proposal had to change if the wind was stronger or the land harder. Many pieces are about shelter and what that means to us."
Today wide skies, an enthusiastic cicada chorus and busy foot traffic greet us and Thompson is excited to see and hear the reactions of the first real punters as they get to grips with the landscape she has lived and breathed for many months.
"Although there's some deep thinking about our sense of identity and the environment that challenges the artist and in turn challenges us, it's also a very playful, interactive exhibition."
She stops to point out the prose at the start of the 2.5-kilometre path commissioned from artist Denis O'Connor. Rust-coloured raupo bushes spike through the undergrowth behind it. There are things we will never see unless we walk to them. "I love the idea that we are on a journey," says Thompson and adds, "We make our own journey."
Delicia Sampero whose orange road signs that proclaim 'Temporary' spring up like warnings en route, certainly had to alter the course of her own artistic voyage. When she initially visited the spot alongside the path that her first signs would stand, they were set squarely in the middle of a pond. She imagined them reflected in the water. "The funny thing is when she came to put them in, several months later, she was shocked as the pond had dried up," says Thompson. Now the parched ground has cracked into hexagons and the kikuyu is as brown as the Outback.
Nearby, a couple of young children eager to play with the miniature teaset they can see have their noses pressed to the window of Matthew Muir's happy yellow bach. His version is one-twentieth the size of a real dwelling. "When he was putting the objects inside, he looked like a giant squeezing in and out of the front door." A gleaming white yacht is anchored in the bay. "It's interesting how the art lures them in," says Thompson.
On we amble past vivid waterscapes framed by ungainly pohutukawa limbs, a tableau that prompted the New York Times to list Headland as a must-visit. A Terry Stringer trademark piece transforms from face to foot to hand as you circle it and landowners' homes that fringe the event become impromptu exhibitions. "Sometimes the owners buy the art so it just moves off the track on to their properties."
Melbourne-based Konstantin Dimopoulos has created a tubular frame where metal crows have alighted in a fearsome flock on the top of what looks, to me, like a jungle gym. "Kon said that they are just birds but our minds create all of our fears and anxieties." Later on, Thompson takes a call from the artist who has had reports of children attempting to clamber on to his work. She will install a "do not climb" sign and keep a canny eye out. Here, too, there's the only roped off section of the path, a small safety measure to stop would-be photographers of the birds stepping back and inadvertently falling over the cliff face. Very Hitchcock-esque.
To me, this raw, unsanitised deal is one of the joys of the sculpture trail. When you need to scramble down a grassy bank to reach an artwork strewn over a rocky shore or duck beneath an overhanging branch to continue the journey, your senses are fully awakened. Thompson is clear, too, that the exhibition should remain free of charge. "That's what keeps it so generous to everyone."
The materiality of the works is also free spirited. Veronika Herber employs masking tape used in conservation practice to smatter a shed with a waterfall of crosses that flows down the walls to become an ephemeral carpet on the ground. "Hours of work go into making the grids which she brought over on baking trays and then attached to the shed," explains Thompson as she politely steers a young girl away from walking on the artwork.
Ray Haydon uses Core-ten steel in a composition that seems to have landed here like an alien. To me it resembles a contemporary Captain Cook, metallic and a little menacing, re-discovering the land. Is it theirs? Is it ours?
Jeff Thomson brought his ingenious corrugating machine and crouched in the dirt with a view of sun-burnt Motutapu and eternally green Rangitoto, to make curvaceous swirls of iron he calls Knotty that are scattered like found objects alongside and over the path. Bev Goodwin has taken her line trimmer to new heights, a vertiginous hillside where she sculpted the words "Not for Sale" as a potent message in grass.
While the adults seek meaning and broader perspective from the experience, their offspring seek only control. With no children of her own, Thompson is surprised at how many of the younger generation have commandeered the cheerful orange programme guides to become self-appointed tour leaders. Their comments along the way are the most revealing. "Ewww that's just gross," exclaims an 8-year-old boy as he spots Christian Nicolson's naked couple in front of a caravan, welcoming their fully clothed guests. The humour in this piece is clearly lost on this particular art critic. The Nicolson work sold on the first day. Another likely lad declares: "That's not exactly a sculpture, it's just noise" in reference to A Weave of Words, by Sharonagh Montrose, an auditory work which you must visit by beating a path into the shady bush.
"Remember how we didn't like spinach when we were youngsters?" says Thompson. "The brain is a wonderful muscle - the information goes in."
Still there are works clearly relished by the young and young at heart. On a catwalk made of shells, a 4-year-old is parading in one of fabric artist Rose McLeod's creations in white, her sparkly pink trainers peeking out from beneath the diaphanous folds. Those gathered are coaxing her on with gentle applause. This is a concept by Waiheke-based Kazu Nakagawa - a collaborative work that embraces art, theatre, the environment, fashion and, most importantly, the audience. McLeod is thrilled the public are getting their 15 minutes of fame.
One popular "outfit" is an old parachute inner that she rescued from an inorganic rubbish collection. "The top part was sticking out and I just pulled and pulled and it kept coming." She took it home, gave it a clean and here it is - an unlikely hero.
Pavilion Structure by Gregor Kregar won the Premier Award this year and it, too, provides shelter and entertainment for all. Swings are affixed to the roof. It's a surprise to me that Kregar is Slovenian by birth for the ad hoc nature of this umbrella-like form, made of planks of recycled timber nailed together, is intrinsically Kiwi.
"He brought all the found timber over on palettes and it took four days to build," explains Thompson. Perched on a promontory, the wind suddenly rises so that skirts fly up not only on the swings and hats tumble towards the surreal blue sea that ripples by. It's fortunate this work is not fragile by nature.
Towards the end of the trail, we wander past the joyful Wildfire by Sarah Brill, a pretty cascade of a thousand painted pebbles turned into everlasting flowers that skitter down a slope. Then we sit amicably side by side beneath a tree adorned with festive bentwood baubles by David Carson and feel the privilege of the vista.
Before 1990, when Thompson headed to Japan to study the avant-garde dance-form Butoh, she had assumed all dancers needed to be small, delicate and trained from the age of five to jump in the air and float like a feather.
"Then I sailed on a yacht to the Pacific where I saw the Tongan women dancing, these wonderful women who jumped up only to go deeper into the ground. And I thought, 'I can do that too. I can express myself in dance."
When I ask Thompson what she hopes people will take home from this sculpture trail, she is pensive. Then finally: "The feeling of having been creative themselves - of having new thoughts and ideas and a different way of looking at things."
Headland Sculpture on the Gulf 2013 runs until February 17.
www.sculptureonthegulf.co.nz
VIP VIVA
Celebrate Valentine's Day with an unforgettable Waiheke experience, with spectacular art, fine food, wine and luxurious island accommodation.
Viva and Sculpture on the Gulf are offering one lucky reader the chance to win the ultimate Valentine's Day experience. You and your loved one will receive return Fullers ferry tickets to Waiheke Island, a romantic guided twilight walk of the sculpture trail, a dinner of fine local food and wine at the Sculpture on the Gulf Pavilion which overlooks stunning Matiatia Bay, followed by a night's accommodation and breakfast at the chic island boutique hotel - The Oyster Inn.
This new addition to the Waiheke scene celebrates long, sun-kissed days of summer and is effortlessly romantic. At The Oyster Inn you can sit back on the ocean-view restaurant verandah or in the stylish dining room and savour a menu inspired by coastal classics. Their cocktail and wine list is just as impressive and with the kitchen open all day, you can arrive when you like, eat when you like. With only three three luxury boutique hotel rooms, you'll feel truly spoilt to be spending the night here.
To finish it all off you'll also receive an Ecoya Metro jar candle in Vanilla Bean. Velvety and rich with a full-bodied vanilla bean extract wrapped in creamy tones of butterscotch, it creates a luxurious fragrance that will be as memorable as your island experience.
To go in the draw to be our lucky winner, go to www.nzherald.co.nz/vivagiveaways and enter the keyword Waiheke Escape on the VIP Viva page along with details. Entries close at 11.59pm on Sunday, February 3, 2013. For terms and conditions see the website.