Growing grapes is an excellent option for those with little room, writes Meg Liptrot.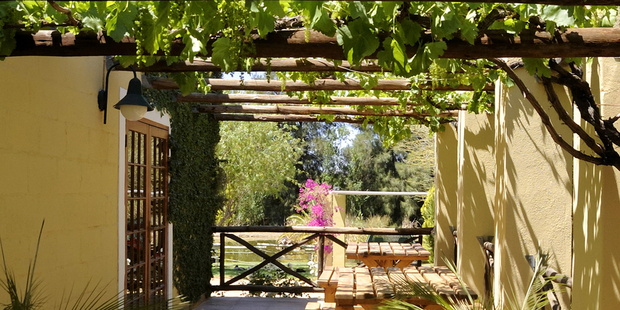 Grapes are one of the oldest known cultivated fruits. The first archeological evidence of grape cultivation was in the Jordan Valley around 5500 years ago.
Grapes are versatile and a perfect plant to grow if you don't have much room on your property to grow fruit trees. Even young grape leaves can be used in Greek dolmades (variations on rice, pine nuts and currents wrapped in vine leaves).
Grape vines are happy growing along sturdy fences or over pergolas and provide a good deciduous canopy over a patio, keeping everyone shaded in summer and allowing the sun through in winter. I've allowed our grape to wind itself through a couple of trees in the absence of a large pergola; the trick is to net it well enough that we get fruit before the birds. In ancient Greece, vines were allowed to grow over arbours and roofs and pruning wasn't thought necessary. Today, grapes are pruned well to keep vines vigorous and productive in less space. Strong fruiting stems are kept, weaker stems cut out, and excess growth is removed in summer to allow the plant to focus its energy on producing good quality bunches of grapes. It is usually easiest to grow a grape vine along a fence or structure in the garden where fruit drop won't be an issue.
Choose grape varieties that have proven themselves in your region. Albany Surprise is a classic Auckland black grape that is tolerant of humidity and high rainfall, producing copious bunches of fruit on sturdy, thick canes. My dad grows a delicious pale green grape, Niagra, which he trains under his clear patio roof. This is similar to how grapes were grown in Victorian times, under glass. The vine is easy to harvest and prune, protected from weather extremes and is easy to net underneath to keep the birds away. It is also pretty to sit in the patio with grapes hanging above like pendulous decorations. The grape has a delightful light musky flavour quite different to the rich tart flavour of a black grape.
Grapes are found naturally in harsh conditions and are tolerant of drought. Some of the best grape-growing areas in New Zealand are naturally stoney areas, such as the Gimblett Gravels, which are old dry riverbeds in the Hawke's Bay, and the alluvial schist gravels of Central Otago. The key to a good grape crop is to ensure vines get enough water when flowering. After this point, mature vines will be fine with little water. Grapes rarely require fertiliser and are great candidates for biodynamic practice. If your vine is growing and fruiting well, there is no need to fertilise the plant. Otherwise, apply compost and a balanced organic fertiliser and a dash of mineral-rich rock dust.
Prune grapes in winter, once the plants are dormant. Select new, strong growth and remove weaker stems and any dead material to ensure strong growth the following season. There are a couple of pruning techniques depending on the variety of grape and the structure you are growing it on. Grapevines are traditionally pruned in a T shape or cordon, supported along a fence or wall. The strongest shoots are allowed to grow to form the structure. Each year, cut the growth off the T-shaped vine, leaving short two-bud stubs every 30cm or so, which will produce fresh new growth in spring.
Some varieties require cane pruning. Select two to four strong canes to grow on from the T-shape structure, rather than cutting canes back to stubs. Tie these horizontally along the wire or pergola. You will find out which mode of pruning suits your grape if you have pruned back hard in the past, but the vine went on to produce vegetative growth and no fruit.
Grapes are a delicacy and can be expensive if you don't grow your own, but are an easy and wallet-friendly plant to grow. Excess fruit can be made into juice by cooking the fruit then straining with a muslin cloth or an old (clean) pillowcase. Grape skin contains polyphenols which are good for heart health. The skin, juice and seeds of red grapes contain the greatest quantity of this compound. You might even delve into home wine production and follow in the footsteps of the world's wine-loving ancestors.
Get the juice a little grape history
* Wild grapes are thought to have originated in central Asia in the forests that grew on the southern shores of the Black and Caspian seas.
* Wild grapes are dioecious (male and female plants must grow near each other to ensure pollination). Cultivated grapes are hermaphroditic and can fertilise themselves.
* A clay cuneiform tablet made by Sumerians was found in southern Iraq and is the first literary evidence of winemaking.
* The boundaries of the invading Roman Empire directly related to the range of where the grape could be cultivated, along river valleys such as the Rhine, Rhone, and Danube, which suited the grape very well.
* Christopher Columbus took European vines (Vitis vinifera) for planting to the "New World" in 1493. European vines soon flourished in Central and South America.
* Native grape species are in America. The European and American vines hybridised, creating the grape gene base for parts of the world not suited to the European vine. This hybrid was resistant to the green fly aphid which wiped out European vines in the 1800s.
* For interesting table grape cultivars which include old New Zealand heritage grapes, (such as Bishop Pompallier brought to New Zealand and planted in Northland in the 1850s), see Edible Garden's catalogue. It includes Koanga Garden's heritage collection. Wairere nurseries also have a selection of grape varieties which include heritage varieties.