Turn your lawn into a productive vegetable garden, suggests Meg Liptrot.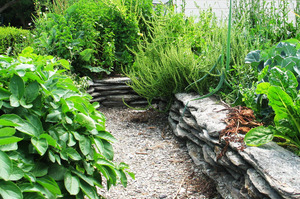 I see so many properties with huge north-facing lawns and nothing much else, apart from a little border shrubbery and the odd tree. Such a wasted opportunity! Instead of mowing the same patch of grass week after week, how about dedicating a decent-sized portion of the yard to growing veges? I stop and admire the occasional house that has a vege plot for all to see in their front yard, especially those with colourful sweet peas in spring or sunflowers in summer.
If you're worried that vege gardens can look scrappy, you're right. But clever design and planting can remedy that problem. Small hedges can be planted to screen the garden. Rosemary can be clipped into an attractive, useful hedge, although it does need full sun. Parts of the bed can be dedicated to ornamental edibles such as globe artichoke, with its sculptural, silver leaves. Don't forget to plant plenty of flowers to attract beneficial insects; your vege plot will also look gorgeous.
Subtropical edible gardens are a way of having a less formal design. A garden with a Pacific influence might incorporate bananas, Tahitian lime and sugarcane for a windbreak, a nice large taro patch, kumara or kumi kumi pumpkin as ground cover, and hibiscus around the border for colour.
Jerusalem artichoke with their yellow mini-sunflowers are bright and cheerful too. Don't forget herbs - plant clumps of lemongrass, dramatic red chilli and basil for a little Thai inspiration.
Pathways can also be a lovely feature of a vegetable space and are a good way to get the vege plot started. Straight or curved, the choice is yours, just make it wide enough to walk down with a wheelbarrow. A simple mulch path is cheap and easy, and can be dug out after several years to add to the vege plot as mulch. Re-use bricks for quaint paths suited to formal potager gardens, or make crazy paving stepping stones from old concrete. Shell makes a light and bright path, but will get weedy if you spill garden soil on it too often. Hoe paths and beds in the hot sun to skim off weeds.
Autumn is a good time to set up a vege garden. You can build a vege garden from the ground up through a series of layers. To start your plot, dig out the soil from the paths you want around it, then turn upside down and place on top of existing lawn where you want your vege plot to be. Let the grass sods rot over winter. Add compost, a handful of lime per square metre, and lay brown cardboard and mulch on top to prevent light getting to the grass.
If you have access to old hay, you can lay that directly on top of lawn. The hay will rot the grass (it even works for kikuyu). We did this at Unitec when we were establishing a food forest in a grassy paddock. We placed quarter bales of hay where we wanted the trees to go and left it for several months, at which point the kikuyu was gone. In its place was rich compost filled with worms ready to plant into.
Get growing
* Veges love sun. They will grow leggy if in too much shade, so make sure the spot gets ample direct sun, particularly in winter.
* Veges such as silverbeet are more shade tolerant so if you only have a shady spot, try building raised planters or use large pots which can be shifted to where the sun is. Raised gardens are also a great way to improve drainage.
* Growing veges in pots is more successful in the cooler months, as they are less likely to dry out.
* Use untreated timber for constructing raised beds. Macrocarpa sleepers are good. If you have to use treated timber, line the sides with polythene to prevent the preservative chemicals getting into the soil.
* Start composting now or, if you only have food scraps, start a worm farm or bokashi bin. The compost will be ready to add to your soil in spring and will help produce lush, healthy veges.
* To save money, buy seeds instead of vege seedlings. Grow in punnets with seed-raising mix first to get them to at least 10cm tall, before planting out.
* Also think about collecting water for your garden, rather than paying for treated town supply. A rainwater diverter can easily be inserted into a down pipe. Join a couple of food-grade plastic barrels to the connection. Plastic taps and fittings can be bought from a plumbing supplier at low cost. Join as many barrels together as you like, depending on the water needed for your plot. The bonus is that plants prefer rainwater.