Regenerating Auckland's bush land is not as straightforward as you'd think thanks to erosion, big roots and poor soil, writes Justin Newcombe.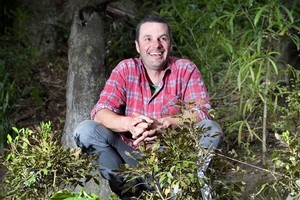 I have to remind myself sometimes what a unbelievably varied natural environment I live in. Auckland possesses the rugged coastline of the west as well as the intricate harbours, islands and beaches of the east coast. And in between we've perched our little city at the water's edge, rolled it from north to south and back to the Waitakere Ranges.
Much of this development has been large-scale stuff which is designed to homogenise the environment and make it more efficient to build on. There are, however, many smaller single-dwelling developments that beat the suburban crush and still contain little islands of what used to be.
Many of these little pockets have beautiful examples of specimen trees or remnants of bush. Of course the closer you get to the hills surrounding Auckland the more frequent these become, and eventually suburbia gives way to a natural landscape. I've frequently been asked to provide planting designs for these scraps where the old landforms meet the new.
There are a couple of considerations that really stand out. Number one, sadly, is that the soil conditions are difficult and two, there is very rarely a bush block in the city which is unaffected by exotic or introduced plants.
In fact some of the most impressive specimens are from introduced species. Poor soils, erosion and big roots make establishing new plants hard so I tend to use a "pioneering" process favoured by tree huggers (I mean that respectfully) when regenerating river banks, hillsides, wetlands or even when starting from scratch.
The piece of bush I'm working on here is only a five-minute drive from the Auckland CBD and holds some massive totara as well as an assortment of Dicksonia squarrosa (ponga), nikau palms and small saplings. This site is steep and has obviously been scoured by rain, so it is difficult for seeds to germinate and take hold. So erosion is the first thing that needed to be addressed. I picked up some ponga logs from Bunnings and pegged those to the bank, forming a trap for water as well as soil. This process can be achieved using fallen branches and logs, just use any material that will rot down and become part of the garden. It's best not to dig into the bank though because you can create more erosion problems.
Build up the soil behind the ponga soil trap. I've used Tui Mulch which nicely replicates a natural bush mulch layer. Building the soil also means the new plants aren't competing with 100-year-old tree roots.
Plant selection is very important. I mentioned the process of pioneering which is planting strong reliable plants that will create a habitat for more desirable - but sometimes more temperamental - varieties to establish. Eventually the pioneering plant is removed to make room for the more favoured specimens, once they have established. The main job of our pioneers is to stabilise the bank and hold the soil together. In this situation pseudopanax or five finger is a great option and I've used Pseudopanax arboreus here but Pseudopanax laetus is a soft shade-loving option. Kawakawa also offers glossy attractive foliage (and, handily, is also used in boutique beer mash). Pongas, along with nikau palms are, in my opinion, more of a secondary planting. They should be planted small and be allowed to grow into their environment.
As things develop, try to find plants that complement your bush setting. I've used Chatham Island forget-me-nots which will enjoy this shady aspect, although they will require watering during early summer.
Most councils will have lists of native plants they promote in your area as well as the nasties they want eradicated. Re-establishing native plants can only improve the habitat for birds and other fauna and ultimately your appreciation of where you live.