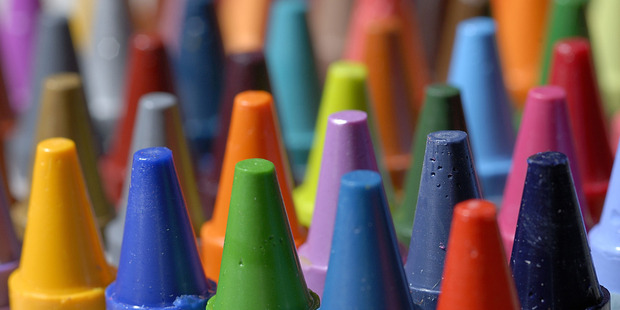 Boy do people have opinions! You could tell by the debate and volume of comments two weeks ago on 'The World Won't End If You Don't Cook Them Dinner'. I certainly found it interesting. Many understood the need for busy parents to empower their teens to do more for themselves.
On the opposing side were those who felt preparing meals for family of paramount importance, no matter what the age. It wasn't only the Herald comments, I got emails from readers. Even this morning at 6:05 am, someone mentioned it in the spin class I was participating in."My husband emailed me your article link. Well done'. From there the discussion flowed between the women with younger children.
As I was spinning to exhaustion to the beat of Phil Collins through the instructor's iPhone, I thought back to my childhood. When I was young, each year I used to beg my parents for the very best thing you could have at school.
The ultimate status symbol (at least growing up in Toledo Ohio) was a 64 count box of Crayola Crayons. To have all those glorious colours. One of four, we did get them as a treat.
I felt I had a wonderful childhood. We went out to eat often, but we weren't allowed to order soft drinks, desert or entrees. Just the mains. When we four complained, my mother would say - 'by just having the dinner, we can eat out several times instead of just once on our budget. Like mother like daughter. To this day, my kids also order 'just water thank you' when we go out, skipping mains and desserts as I do. Ditto when they go out with their friends too. Score one for mom.
However the wants and perceived needs of this generation of children, is different. Do you hear what we hear as their must have's? They want iPhones. iPads. Laptops. Playstations. Cars. Vacations. Things with a significantly higher purchase price than the box of 64 crayons I craved, or an extension telephone in my room.
I wonder. is this a symptom of the times? Or is it in addition a symptom of local peer pressure? We live in a relatively affluent suburb of Auckland (well, who doesn't these days!). Both Steve and I have worked hard, so we have disposable income.
You see, Steve and I think they have it made. Several televisions. Several MySkys. Computers, laptops aplenty. A five bedroom home. Smartphones (hand me downs or paid for by themselves). They've been given cars to share and drive, but aren't given any money - except for school items. We had them all go to a wonderful local school (Glendowie College), as we felt it better to pay for university fees. We have home help, so they nary lift a finger.
Yet our six always complain about how hard they have it. How cheap we are. How mean we are. How strict we are. That is compared to their friends. The friends who are given petrol money as well as the cars. Given lots of spending money instead of having to get a job to work for it. The parents that buy them any clothes they want and pay for their Australian or Island holidays with friends. Parents that let them come home as late as they want. And so on and so on and so on.
So I ask you. How do we parents get our children's perceptions to change from being spoiled sports to grateful for what they have? What do you think? I'd love to know how other working parents are handling their older children and what they're asking for.
Written by Debbie Mayo-Smith, One of Australasia's most in-demand speakers, trainers and bestselling authors. For more tips and business ideas sign up for her monthly newsletter.