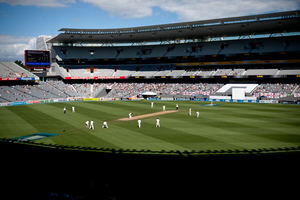 For New Zealand, yesterday's World Cup announcement was akin to unwrapping the anticipated socks and tie at Christmas and finding an altogether far more splendid present under the tree.
The most striking point about the arrangements is the fairness between Australia and New Zealand in a range of aspects. No sign of big brother lording it here.
Equal number of pool games; equal number of venues either side of the Tasman; a splitting of the semifinals; all teams playing in New Zealand, which might irk the Aussies. After all they made the same journey to Eden Park in 1992 - the only other occasions the neighbours have shared hosting rights - and came away with their favourites tag somewhat frayed, and irreparable.
All games will be screened live. Reserve days from the quarter-finals, too. Remember them? A cricket bonanza for sure. And lengthy too.
The tournament will last 44 days - including five rest days - one more than the 2011 event hosted by three sub-continental countries.
On 16 days between February 14 and the end of pool play on March 15, there will be just one match.
New Zealand and Australia have seven and six days off respectively before their humdinger clash at Eden Park. That said, New Zealand's first three days are compressed into a seven-day period. As they include games against Sri Lanka and England, it shapes as a pivotal period for Brendon McCullum's team.
There are the anticipated mouth-watering square ups. Defending champions India against their fiercest rivals Pakistan at Adelaide on day two; a day after Australia face England in Melbourne; and that game in turn starting a few hours after the tournament opener in Christchurch.
That's on February 14, Valentine's Day. In a sense that's appropriate. There is a strong sentimental element to Christchurch opening the jamboree, for all the pain that city has endured. They will feel the love, assuming Canterbury Cricket get past the far from trifling hurdle of the Environment Court for the building of the new stadium, without which the ambition could be shattered.
A disappointment? No games for the Basin Reserve, the country's most iconic cricket ground. It lost out, presumably in large part for financial considerations, to the larger Westpac Stadium. Still, that's a minor consideration. The game, indeed the country, has something special to look forward to.