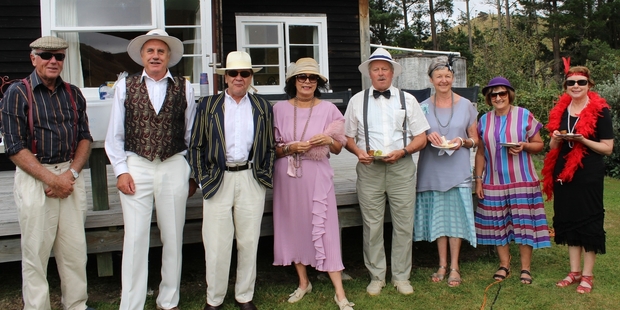 A farm worker's morning tea, with cakes and bacon butties from the 1930s, greeted 80 Art Deco visitors to the Tararua last Thursday morning.
The 80 visitors were on the Gemco Construction and Trades bus tour from the Hawke's Bay through to Palmerston North where they caught the Art Deco train for the journey back to the Bay.
Members of the Woodville Pioneer Museum and Neil and Julie Candy, owners of Ruffit Lodge in Hopelands, hosted the morning tea, with the cakes baked using familiar recipes from the 1930s.
"This was a great way to let people know what our district has to offer and was a good fundraiser for the Woodville Pioneer Museum as well," organiser Kevin McIntyre said. Visitors tucked into their morning tea and vintage lemonade on what was a fantastic day, John Sarten of Gemco said.
"This trip and our return on the train is about us looking after our customers and staff," he said.
"This is a fantastic day. We'll be chugging home slowly and having plenty of fun."
Former Konini farmer Tony Powdrell was pleased to be back in his old stomping ground and for Debbie Milne from Havelock North and Louise Campbell from Brisbane, the excursion was all about having fun.
"The bacon butties were beautiful and the vintage lemonade lovely," Debbie said.
The visitors also had a chance to soak up the country atmosphere before arriving at Ruffit Lodge at Hopelands.
"If you stick to the main roads you don't see these pieces of paradise," Debbie said.
Rick and Paula Burns from the Hawke's Bay were full of praise for their Ruffit stopover.
"Absolutely fabulous and beautiful food," Rick said.
With the visitors well fuelled and with recipe cards for dog trail cake and junction gingerbread as parting gifts, the morning couldn't have gone better a delighted Mr McIntyre said.
"This was too good an opportunity to miss," he said. "We don't want these people driving through our town and not stopping. And how great to see all these people dressed to the nines."
For more articles from this region, go to Hawkes Bay Today