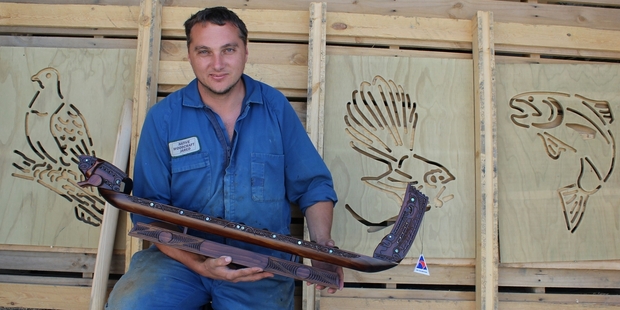 From a small factory down a side street in Dannevirke to the United Nations in Geneva, carvings from Jared Mulinder's Native Woodcraft are making a name for the company around the world.
But Jared, although very proud of his work, is also quite laid back when describing what he does.
"I just make stuff," he said.
But with a waka produced in the Native Woodcraft factory on London St recently centre stage at a presentation by Judith Collins, the Minister of Justice to the United Nations in Geneva, he admits his work is incredibly rewarding. "It's cool to know my waka is there at the United Nations."
Minister Collins was in Geneva to celebrate the 120th anniversary of women getting the vote in New Zealand and to present New Zealand's report on human rights to the United Nations Human Rights Council.
"Rob Kelly, a friend of my brother Kyle works in Geneva and when they were revamping their offices he was on the lookout for a work of art to be the centre piece," Jared said.
"Kyle sold them on a hand-crafted, metre-long waka with paddles.
"Our stuff ends up in some very important places, but we normally don't get to know where they land. But I do know one of our greenstone pieces was purchased by the Ministry of Foreign Affairs and presented to a Saudi prince."
Jared's cultural ties to Te Atiawa on his grandmother's side are an important link for the business too. "People respect those links and it gives me credibility," he said.
Native Woodcraft has been manufacturing in Dannevirke for 22 years, first operated by Keven and Sharon Burling.
"I started here in 1998, straight from high school," Jared said.
In 2005 the Mulinder family purchased the business and currently five people work in the factory. "We're real busy," Jared said.
"But I just make stuff, the rest has to be a team approach. We make goods to sell and business is starting to pick up. I blame the Christchurch earthquake for a downturn earlier on, but we're clawing back business now."
Working with Jared is his mother Kathryn, while business mentor Annette Kendall works with the company, "to make things happen".
"This company has orders big time, but it's a team effort by everyone," she said. "It's Jared's business, he knows what he wants to do, but New Zealanders have this culture when they set up business of thinking they should do everything themselves. But there's no one on Earth who can produce the product, do the marketing and manage the finances as well. You need to have a team approach."
"Every tourist shop in New Zealand will have something on its shelves from this factory."
However, Annette, said the success of Native Woodcraft isn't well known in Dannevirke. "Because the business isn't on the main street, sometimes people dismiss it."
For more articles from this region, go to Hawkes Bay Today