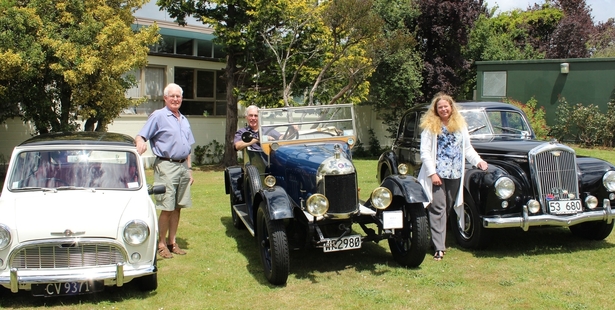 Morris cars are part of Ken Mills' life and his love of the famous vehicle drives his passion for the annual Wheels with Attitude event.
"My Dad had the Morris agency here in Dannevirke from 1936 until 1960 and I worked as an apprentice with him in 1953 and 1954," Mr Mills said. "Then dad and I went into partnership."
Mr Mills is again at the helm of Wheels with Attitude, which will be held this Sunday, February 2, at the Dannevirke and Districts A&P Showgrounds.
"We had record numbers last year but it's always an unknown when it comes to who will turn up each year," he said.
Michelle Thompson and Peter Hutching also share Mr Mills' passion for the Morris.
Mr Hutching bought his Morris Mini eight years ago from Norsewood's Jean Larsen.
"Jean had purchased it new from Rex Morgans at Wright Stephenson's in 1966," Mr Hutching said. "It's a great wee car ... The trouble is her brother decided he didn't like the car's colour and repainted it brown, using house paint."
Michelle Thompson loves her family's 1953 Morris Wolseley 680.
"It's like a living room couch on wheels," she said. "You can travel long distances very comfortably, but because the seats aren't moulded you have a tendency to roll on the corners."
Mr Mills has great affection for his 1925 Morris Cowley, dubbed "Ella".
"She's is a dear little car, but you've got to drive defensively because of its 1925 braking system," he said.
This year the Dannevirke Wheels with Attitude and swap meet celebrates more than 100 years of production at the Morris Motors plant at Cowley, Oxford, England.
William Richard Morris was born in Worcester on October 10, 1877, and was first employed as a cycle apprentice.
"He later left to start his own cycle repair and manufacturing business," Mr Mills said. "He was an accomplished cycle racer and made his own cycles."
In 1904, he developed a fleet of hire cars and in 1911 had a repair and sales garage in Oxford.
"In 1912, he designed his own car, the Morris Oxford, and the first car left the Cowley works on March 29, 1913.
"The export of Morris cars to New Zealand began almost as soon as the first cars rolled off the assembly line and Dannevirke had four agencies selling them over the lifetime of the car, including my dad," Mr Mills said.
Mr Morris was knighted and became Lord Nuffield. A philanthropist, he gave millions of pounds to hospitals and universities.
He developed the iron-lung respirator and about 1200 were produced at Cowley and given to Commonwealth hospitals.
Morris cars were sold in Dannevirke until 1983, when production ended and the Oxford works were sold.
Today, the Cowley works manufactures the BMW Mini.
"If people have a Morris, Wolseley, Riley MG or any other vehicle produced by the Cowley works, we'd love them to bring them along to the Wheels with Attitude," Mr Mills said.
"We will also have a display of Morris memorabilia in the new produce hall at the showgrounds."
For more articles from this region, go to Hawkes Bay Today