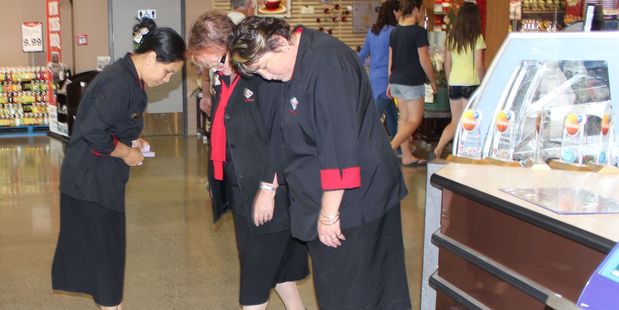 Hawke's Bay and the lower North Island remain on edge today after a "severe" shake from a 6.2 magnitude earthquake and strong aftershocks yesterday.
The initial shake, at 3.52pm, was at a depth of 33km and 15km east of Eketahuna in Wairarapa.
It was felt throughout most of New Zealand, with GeoNet collecting reports of people feeling the quake from as far away as Invercargill and Auckland.
GeoNet duty seismologist Caroline Little said the "big" earth mover would definitely generate a number of aftershocks which would be felt in Hawke's Bay.
She said the geological hazard centre had received 11 "damaging reports" and one "heavily damaging" report, coming from Wellington as a result of the earthquake.
She said it was too early to tell which fault was responsible for the long rolling quake, lasting about 30 seconds, and dozens of aftershocks, four greater than 4.0 and the largest measuring measuring 4.5 on the Richter scale.
Fire service central communications shift manager Mike Wanoa said a number of emergency calls flooded in immediately following the shake, particularly in the Masterton-Eketahuna area.
He said Hawke's Bay appeared to have come through unscathed.
Wairarapa is no stranger to large earthquakes, with two damaging magnitude 7 quakes in 1942. However, the region's last earthquake above magnitude 6 was in 1990.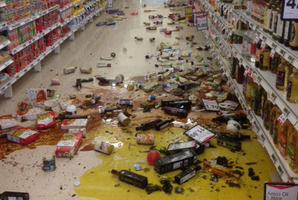 Fire crews were called to the Fonterra plant in Pahiatua, after the factory was shut down after the earthquake. Mr Wanoa said no damage, chemical leaks or fires were discovered at the works.
Fonterra director of operations Robert Spurway said structural damage was clearly visible in early examinations of the dairy plant. "We will be carrying out a full assessment of the plant and structural engineers will also carry out an assessment."
The factory was evacuated with no injuries and power was lost temporarily. Milk from the plant was transported to other Fonterra distribution centres.
Mr Wanoa said a report of a gas line rupture in Pahiatua remained unclear but fire crews were receiving a number of calls in the small town.
Inspector Mike Coleman, of police central communications, said there were reports of damage to houses in Eketahuna, including broken windows, collapsed walls and fallen chimneys.
Residents in Dannevirke said strong winds had died down moments before the big quake struck.
Senior Constable Brendon Price at the Waipukurau police station said no initial emergency calls or damage were reported to police in the Waipukurau and Waipawa area.
"The police comms gave us a ring to see if we were all okay. It was fairly strong but there have been no reports of damage as yet."
New Zealand Transport Agency media manager Ewart Barnsley said contractors were dispatched to check major highways. "All the major bridges in the wider Wellington region, reaching as far north as Masterton, appear to have come through quite well.
"There could have been some rock falls north of Masterton in the Manawatu Gorge but no major damage has been reported."
The Manawatu Gorge road was down to one lane, while the road between Pahiatua and Palmerston North was closed.
Wairarapa Times-Age editor Andrew Bonallack said for Masterton residents it was "utterly terrorising" and people thought it was the "big one".
He also said a substation in the settlement of Alfredton had caught fire but was dealt with by emergency services.
Eketahuna antique store owner Glenn McDean said it appeared everyone in the town lost power during the "scary shake".
"I really thought this building was coming down.
"I was down the back and couldn't make my way to the front; there was stuff everywhere. We are all still in shock and I went to check on the lady next door and got her out.
"It's the fear. We have never experienced anything like it before."
Hawke's Bay Today readers took to social media immediately following the quake, sharing their experiences on Facebook and Twitter. Jennifer Howe said: "No damage but went on a bit and a lot of jingling in the cupboards."
Helen Burnett was on the third floor of the Hastings Westpac building and said: "Not fun at all. It was door frames and desk time."
MJ'S Cakes wrote: "OMG yes, sitting in office in Clive, New Zealand and felt like was not stopping, sure was a rocking one."
In Wellington, the giant eagle hanging from the roof of Wellington Airport to promote the Hobbit trilogy fell because of the shake.
No serious injuries have been reported. Yesterday's series of quakes follows July's 6.5 magnitude Seddon earthquake that shook Hawke's Bay and much of central New Zealand.
Yesterday's earthquake, on Wellington Anniversary day, was also freakish in the fact it eerily coincided with the 1855 magnitude 8.2 Wairarapa earthquake, which also rocked central New Zealand at the end the cities anniversary celebrations.
- Additional reporting Wairarapa Times-Age
For more articles from this region, go to Hawkes Bay Today