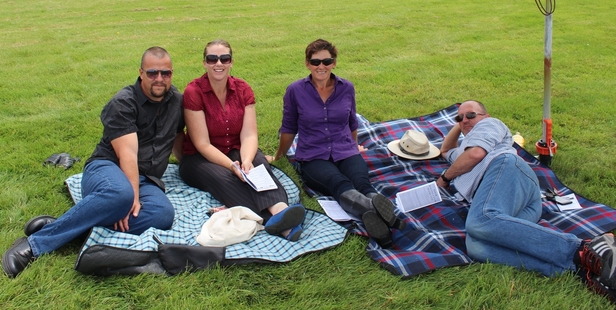 With no horses running, Woodville horse trainer Tess Shepherd had a relaxing day at the races on Monday for a change.
Shepherd, husband Paul and friends Glen and Johanna Christini may have been the only ones enjoying the lawn in front of an empty public stand at the Woodville-Pahiatua Racing Club's meeting, but they all agreed it was still a great day at the races.
Shepherd moved her team from Waipukurau to Woodville two months ago and is full of praise for the facilities the track offers trainers.
"Training conditions at Waipukurau weren't the best in winter, but Woodville is superb, with the choice of five tracks for trainers and hot water washes for our horses, I couldn't ask for anything better," she said.
Woodville's central location is also a winner.
"To be a successful trainer, you have to have support and finance behind you and now any horse not up to scratch has gone from my stables because you really need the better horses to make a go of it," Shepherd said.
With her stallion Goldmine only covering a couple of mares this season, Shepherd said quality stock was vital.
"I was a jockey when I was 18 and I'm in this game for the love of racing. I moved here to Woodville to help fulfil my ambition and ultimate goal to have some of New Zealand's best staying horses," she said.
"I'm also keen to bring more people back into racing. By being part of a syndicate, it doesn't have to be expensive. It's a great little sport."
And while she's transferred her stables to Woodville Shepherd said Waipukurau's racing carnival in early December was one of the best.
"It's tough for small clubs, especially when they're allocated mid-week meetings," she said. "It's also disappointing there have been so many scratchings here today.
"The track is good and it's a wonderful day, but there aren't many punters either."
With a large number of scratchings dominating the race day, the already depleted race three, the Mike James Plumbing 1200-metre dash had a late withdrawal minutes from the jump, leaving just six horses in the field instead of the carded 14 runners.
Meo, decided to dump jockey Aimee Taylor just as the pair left the bird cage. Following a vet check for the horse, Taylor was back in the saddle, but a jumpy Meo refused to head to the start and was scratched.
For more articles from this region, go to Hawkes Bay Today