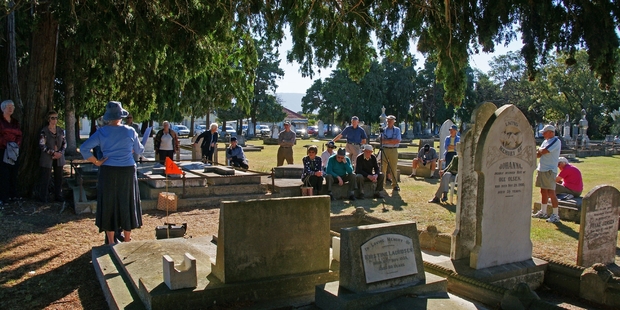 Stories of life and death amongst the pioneers of Dannevirke will be shared at a conducted walk through the town's historic Settlers' Cemetery.
"During the hour-long session we'll tell stories of deaths which could or could not have been avoided," Pat Mills, president of the Dannevirke Gallery of History, said.
"How difficult it must have been for parents to lose their young children through childhood ailments, for which, in the early days of settlement, there was no cure. The Young parents lost four children, aged six months to 2 years and the Bankart parents lost their three at 16 months to 3 years."
Of the 890 people buried in the cemetery, 160 are children aged under a year and the walk will remember seven of them as well as some of the more interesting stories of the dead.
"Mistakes of age or date of death weren't uncommon in burial records, but it is difficult to see how genealogical researchers could claim a body is buried in a plot occupied by another of the same name, but different age and date of death," Miss Mills said.
"We'll tell this story and that of Dannevirke's Alice Maud Allen, wife of Samuel, who is the real claimant to this particular plot. Two little children were left without a mother when she died."
The walk will also include stories of William Hansen's mill accident, John Coveney's drowning, Thomas Preston's shooting and Henry Shannon's untimely demise.
"These are typical of the causes of death of many who are interred in the cemetery," Miss Mills said.
"The newspaper reports and inquests from the time vary from minimal to very lengthy."
One extensive report of an accident was that of Joyce Ransom in 1923. Ms Ransom was the daughter of Mr E A Ransom, the MP for Pahiatua and she died in an accident at Dannevirke's Allardice St railway crossing when just 19 years old.
"Reports at the time say the floral tributes at her funeral turned the cemetery into a colourful garden," Miss Mills said.
The historic walk will take place at the Dannevirke Settlers' Cemetery on the corner of Dagmar and George streets on Sunday, November 10 at 2pm. A cuppa will follow. For more information, phone 06 374 8091.
For more articles from this region, go to Hawkes Bay Today