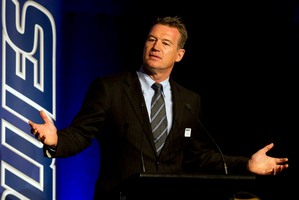 The fanfare that accompanied yesterday's naming of the Blues squad did nothing to mask an underwhelming line-up.
It had been well signposted that there was not a lot of talent left floating about by the time Ma'a Nonu decided Dunedin would be a great place to raise his family, but it is not until you see the list of names that it hits home how green this team is.
Yesterday, however, was all about accentuating the positive.
The evangelical pull of Sir John Kirwan brought 750 people - similar to a home crowd over the last part of the 2012 season - to the team reveal. The main theme was rebirth: new coaches, 16 new players and a renewed sense of optimism.
Kirwan did a great job of selling the team to the assembled Auckland rugby identities, sponsors and members. The world according to SJK is full of bright, young things. Full of, dare we say it, hope.
As the increasingly presidential Kirwan outlined the potential of his "young and exciting" team, his audience was waiting with bated breath for an opportunity to chant: "Yes We Can".
The enthusiasm of the stakeholders is a good sign. Could it be this young rag-tag band of Blues brothers may be able to connect with fans more than this year's star-studded group, who failed to live up to their over-hyped reputations?
Nobody is really expecting much from the young team, other than progress. If they perform with credit early, perhaps claim a couple of big scalps, the fans will get behind them - the Chiefs can tell you everyone loves an underdog story.
But as exciting as the potential of the group is, the world according to rugby reality is based on a win-loss column, and there is no escaping the sense that this team look more fit to pick up more of the latter (mind you, the same was said about Dave Rennie's initial squad).
Kirwan has bought himself a bit of time. Fans of the underachievers will cut the team some slack as Kirwan attempts to resurrect the franchise.
But the Blues will need to show steady progress after this season's disaster, for goodwill will quickly turn to sympathy, which is only a syllable removed from apathy.