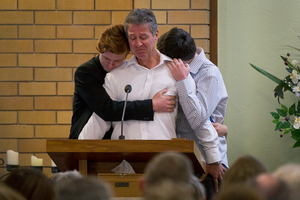 A woman killed in a freak cycling accident near Taupo has been farewelled in Auckland this morning.
Supported by his two teenage sons, Ian Farrelly bade his beloved wife of 26 years goodbye in front of a packed out chapel at the Manukau Memorial Gardens.
The loving husband, who met Jane Farrelly at 17, described to family and friends the couple's years together.
"Wife, friend, soul mate and mother.
"You've stepped up to the mark.''
Mr Farrelly, who was cycling ahead of his wife when she was knocked off her bike and dragged under a truck, said he was immensely proud of Jane.
The 50-year-old mother of two died shortly after the collision in Taupo last weekend.
"Jane's knew one pace to live: full-ahead,'' Mr Farrelly said. His wife was a well loved member of the South Auckland community and avid cyclist.
Bikes belonging Mrs Farrelly's fellow Manukau City Veterans cycling club members lined an outer wall of the chapel.
Students from James Cook High School, of which she chaired the board of trustees, were also in attendance.
Mr and Mrs Farrelly's two teenage sons, Ben and Nick, shared warm tales of their mother at the service.
"You're truly an amazing, beautiful woman,'' 19-year-old Ben said, the eldest of the two sons.
Her older sister, Tina McCullough, paid tribute to her special sibling.
Mr Farrelly had stood up for "the small man and short woman''.
''[She was] focused, determined and driven.''
Mrs McCullough, a fellow cyclist, also appealed to drivers.
"We're [cyclists] mums, we're dads, we're daughters, sons.
"Share the word, share the road,'' she appealed.