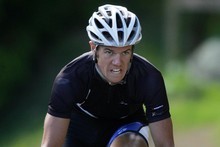 A courageous effort by Pure Black Racing's Tim Gudsell yesterday not only earned him an impressive stage win but thrust him into contention for the Tour of Southland crown.
Heading into yesterday's 167km stage from Invercargill to Gore, the Te Awamutu rider was 2min 21sec off the pace in 9th place overall but now trails PowerNet's Josh Atkins by just 1min 5sec in the yellow jersey battle. Ascot Park Hotel's Patrick Bevan, of Rotorua, is just 4sec further adrift and also continues his tussle with Atkins for the Co-Operative Bank Under-23 jersey.
With just two stages remaining today, including the addition of an individual time trial at Winton, the 2011 race remains wide open.
But if the tenacious exploits his PowerNet teammates displayed yesterday are an appropriate gauge - and their legs hold strong for just one more day - 19-year-old Atkins could become the youngest victor in the Tour's 56-year history.
"It was a super hard day on the bike and I owe it all to my PowerNet teammates. They did an amazing job today and were on the front for 160km and helping me the whole way," Atkins said.
"When I was riding in those crosswinds and thought I wouldn't make it, I just had to go super deep for them.
The boys give me a heap of crap every night but I'm pretty flattered at how much work they're doing for me."
The time-trial now looms as the critical factor.
"I'm just going to go all out for that and ride as hard as I can and hopefully go into the final stage with a good advantage," Atkins said.
As riders struggled in squally conditions from the outset, Olphert Contracting's Jeremy Inglis had the most apt description.
"It looked like the field had been hit by a grenade and splintered in all directions," he said.
Gudsell, who is preparing to marry fiancee Sarah in just three weeks, said motivation was abundant.
"There were lots of things running through my head when I was solo with 25km to go. It was extremely tough but as I saw the time gaps going out it gave me more and more motivation to push harder and harder. By the end I'd turned myself inside-out to get as much time as I could," he said.
"We banked everything on trying to win the yellow jersey."
- APNZ