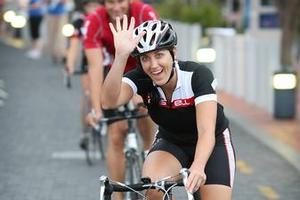 More than 600 Auckland cyclists converged in a sea of bikes, helmets and lycra on the Viaduct Harbour for yesterday's Go By Bike Day, to be rewarded with a free breakfast.
The breakfast, an annual event that is part of Bike Wise month, aims to encourage more people to leave their cars at home and try cycling to work or school.
Three cycle buses left from around the Auckland region with volunteer marshals and a police escort to ensure riders kept safe.
Many riders stopped by on their way to work, and others made a special trip into the city for a healthy breakfast of freshly squeezed orange juice, cereal, yoghurt, coffee and fruit.
Bruce O'Halloran of Adventure Cycles and his team offered free bike check-ups to riders mostly in need of brake and gear tuning.
Cycle Action Auckland secretary Barb Insull said the breakfast was a great way to say thank you to cyclists.
Cycle Action is a local and national lobby group and Mrs Insull hopes these kinds of events will encourage more people to take up cycling.
She would like to see more local events being held throughout the year.
Bike Wise is funded by the NZ Transport Agency and Ministry of Health and promotes safety and biking as a sustainable and fun means of transport with the hope of increasing participation.
The agency's national manager, Michael Cummins, said cycling could help keep the bank balance and the body healthy.
"One-third of all vehicle journeys in New Zealand are less than 5km in length - an easy distance to cover by bike. Using a bike instead of the car for quick trips like this can add up to serious savings on petrol, parking and car maintenance."