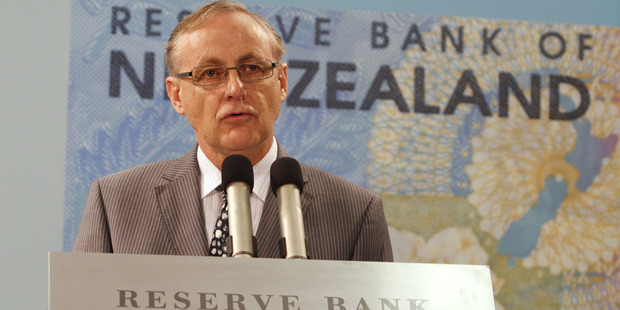 Reserve Bank Governor Alan Bollard kept the official cash rate at 2.5 per cent, saying the euro-zone's sovereign debt woes are hanging over New Zealand's trading partners and the bank is watching the region for any signs of deterioration.
"New Zealand's trading-partner outlook remains poor, with several euro-area economies in recession," Bollard said in a statement. "It remains appropriate for the OCR to be held at 2.5 per cent," he said, dropping last meeting's reference for conditions to stay stimulatory.
Europe's woes flared up again this week after two Spanish regions indicated they will probably want central government funding, and the Mediterranean nation, along with Italy, imposed a ban on betting against stock market declines.
The yield on Spain's benchmark 10-year government bond rose to a decade-high 7.75 per cent in Northern Hemisphere trading on Wednesday.
Bollard said there was a "limited risk" for the euro-zone to "deteriorate very significantly" and that the bank is keeping close tabs on the situation.
Last month, Bollard told Parliament's finance and expenditure committee he sees a 10 per cent chance for a complete meltdown in Europe happening and a 30 per cent chance for a Greek exit from the euro-zone. The most likely outcome is for the region muddling through to some kind of satisfactory conclusion, which he gave a 60 per cent chance.
The June monetary policy statement was written against the backdrop of Greece's second general election, after an earlier ballot failed to deliver a Parliament that could form a government.
Since then, Greece has elected a new executive, and Spain was granted a 100 billion euro bail-out package to shore up its ailing banking system.
Bollard said underlying annual inflation is expected to "settle near the mid-point of the target range of the medium term," shrugging off government figures last week which showed a slower pace of consumer price increases.
The annual pace of inflation slowed to 1 per cent in the year ended June 30, just within the central bank's target band of between 1 per cent and 3 per cent. Falling consumer prices for telecommunication goods and services were offset by the rising cost of electricity and rental accommodation.
The benchmark rate has been unchanged for a record 11 straight meetings, since Bollard sliced half a percentage point from the OCR in March last year as a form of insurance against the Canterbury earthquake that levelled the nation's second-biggest city.
New Zealand's economic recovery hasn't been as strong as earlier anticipated, with a lagging rebuild in Canterbury and struggling retail sector in the face of damp household demand.
Bollard said economic growth is expected to be modest over the next few years, as housing activity picks up and the Canterbury rebuild gathers pace.
"Offsetting this, fiscal consolidation and the exchange rate are constraining demand growth," he said.
Last month the central bank trimmed its forecast track for the 90-day bank bill rate, often seen as a proxy for the OCR, with the rate unchanged at 2.7 per cent until June 2013, before peaking at 3.4 per cent in March 2015.
"New Zealand's economic outlook remains consistent with that described in the June monetary policy statement," he said.
The June MPS forecasts economic growth will peak in 2014, though at a slower pace of 3 per cent rather than the 3.7 per cent predicted in March.
See the history of the Official Cash Rate here.