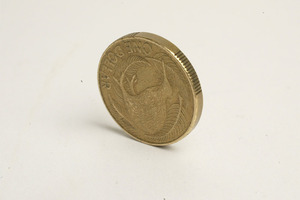 The New Zealand dollar held above 76 US cents on prospects Greece will avoid a euro-exit after polls showed the nation's pro-bailout party gaining ground, boosting demand for higher- yielding assets, such as the kiwi.
The New Zealand dollar rose as high as 76.45 US cents overnight from 76.08 cents at 5pm yesterday, and traded at 76.05 cents just before 8am. The trade weighted index was little changed at 69.32 from 69.29.
Greece's New Democracy, which supports the rescue plan negotiated with global leaders, placed first in all six opinion polls published on May 26 in the lead-up to the June 17 election. That's helped ease investors' concern the indebted nation will leave the single currency.
"Today's support levels around 75.85 cents may be out of reach as markets digest hopes of a positive Greek election," said Alex Sinton, senior dealer at ANZ New Zealand. "The bottom line remains - it will always be about implementation and the Greeks are no closer to that goal."
The Mediterranean nation was unable to form a government following elections on May 6. International inspectors won't visit Greece for a review that allows funds to be paid until a government is formed. That means the country could run out of money as soon as July.
Concern is growing about Spain, another euro-zone member, after the yield on its benchmark 10-year government bonds rose 16 basis points to 6.47 per cent. That saw the spread against the German Bund widen to a record 514 basis points.
Spain's fourth-biggest bank Bankia SA is seeking 19 billion euro of state funding after increasing its provisions for bad debt. The government recently nationalised Bankia, and had previously estimated 15 billion euros would be enough to shore up its entire banking sector.
Markets in the world's largest economy, the US, will reopen today after being closed for the Memorial Day holiday on Monday.
Tuesday kicks off a data-heavy week in the US with the release of the Case-Shiller home price index and consumer confidence on Tuesday and pending home sales on Wednesday. Investors will be searching for signs that the housing market is stabilising after new homes sales rose 3.3 per cent in April, while existing homes sales climbed 3.4 per cent to their best annual pace since May 2010.
There is no significant data due out in New Zealand until Wednesday, with the release of April building consents by Statistics New Zealand.
The New Zealand dollar was little changed at 60.65 euro cents from 60.49 cents yesterday. The kiwi was largely unchanged at 77.21 Australian cents from 77.25 cents and traded at 48.47 British pence from 48.50 pence. It dropped to 60.45 yen from 60.97 yen yesterday.