In the months ahead Aucklanders can sample the city's vibrant cultures, writes Alexia Santamaria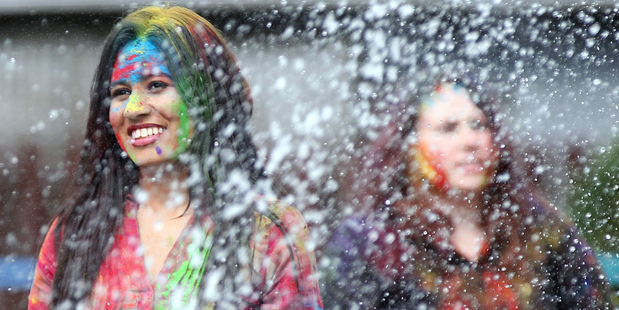 Auckland is more abuzz with languages, food and colour from all over the world than ever before. Far from our early beginnings when immigrants from only two or three cultures joined the tangata whenua, there are now more than 180 ethnic groups injecting vibrancy into our city.
The key festival is Auckland Council's annual Auckland International Cultural Festival (April 7) at the War Memorial Park in Mt Roskill. It's an excellent chance to see a lot of those cultures in one place with craft, food, dancing and performances from all over the world.
There are also many other chances throughout the year to experience the ethnic groups that make up Tamaki Makaurau. Of course, there's the recently held Lantern and Pasifika festivals, and Diwali in October but, aside from these mega-events, there is a raft of other interesting cultural experiences to be had. Some are annual, some biannual and others monthly, but all involve a chance to be part of something from another corner of the world.

Holi Festival
March 24, 10am-6pm
Holi is a Hindu spring festival celebrated with the friendly throwing of coloured powder - translated to a Kiwi autumn. It's a really fun way for Kiwi kids to experience a different culture. There will be entertainment, dance, food stalls, a DJ, bouncy castles and fun activities for children. You can bring your own powder or buy it there. Just make sure you don't dress your darlings in their Sunday best. Strictly rough clothes only as they will definitely get stained.
TelstraClear Pacific Events Centre, Manukau (Gate 3), or in Rotorua (today, 2pm at Western Heights High School, top field, gold coin donation)
For more information call the venue on (09) 976 7777 or in Rotorua, rotorua.holi@gmail.com or phone: 021 0820 5130.
Auckland Indonesian Festival
April 6, Noon-8pm
A celebration of Indonesian culture, crafts, film and tourism. There will be clothing, accessories and craft to shop for, two Indonesian films plus workshops in batik, gamelan (music) and wayang (shadow puppets) plus traditional food.
TAPAC, 100 Motions Rd, Western Springs
aucklandindonesianfestival.com or call Maman Baboe on (09) 889 9050.
Emporium Market - Latin & MediterraneanApril 21, June 16, August 18, Oct 20, Nov 17 and Dec 15, 10.30am-2.30pm
This is much more than a market where you just buy food and leave. It's designed as a monthly family-friendly event to come to, eat, dance, listen to music and even have a picnic if you want.
Experience the flavours, sounds and colours of Latin and Mediterranean countries through food, art, craft, music and entertainment. There is a revolving array of interactive entertainment, such as tango (to watch and participate in), as well as giveaways and fun for kids. A great way to add a splash of colour to your weekend.
For more information see their Facebook Page "Emporium Market Auckland" or latinmed.co.nz.
Mount Eden Artisan Wines
Saturday 6 April, 11am - 3pm
This year Mt Eden Village Business Association's annual festival honours the multicultural Asian community with food, drink, music and entertainment - Mt Eden as oriental market. For lunch, join the Flowing Somen, a Japanese tradition in which children use chopsticks to try to snatch somen noodles slipping down a bamboo slide. Along with bargains, look out for Eastern hip-hop dance, too. "No one is rich enough to do without a neighbour." - Asian proverb.
See mounteden.co.nz.
Vaisakhi Mela
April 13
This is a New Zealand incarnation of a traditional Punjabi Festival celebrated at the start of the wheat harvest in Northern India. There will be fun for kids, a bouncy castle, cultural performances including Bhangra dancing and traditional folk performers (direct from India) as well as food, face painting and a comedian. Come along to experience part of India's diversity in this inaugural event.
TelstraClear Pacific Events Centre, Manukau
For more information call the venue on (09) 976 7777.
Buddha's Day Multicultural Festival
April 14, 10am-4pm
Experience Buddhism and multiple cultures in a fun family environment. There are stalls with delicious vegetarian food, a children's wonderland, cultural and craft stalls and the opportunity to have your baby blessed (if they are between 0 and 5). Watch multicultural performances and partake in "Bathing the Buddha" if you like, too.
The baby blessing is at 1.30pm and you need to contact the temple beforehand to register your child.
Fo Guang Shan Temple, Flat Bush
For more info see fgs.org.nz.
Essence of Europe
April 12, May 12, June 9, July 14, August 11, Sept 8, Oct 13, Nov 10, Dec 15, 10am-2pm
This is a new market, started by Angela Radosits, a Hungarian who was homesick for a taste of home. She is looking to build up the ultimate European experience with food, products and cultural entertainment all connected to the continent of her birth. If you frequent Auckland markets you will undoubtedly recognise some of our better-known European producers (Olaf's Artisan Bakery, Langos Hungarian deep-fried flat bread, Dutch Delight).
Titirangi War Memorial Hall
For more information, see essenceofeurope.co.nz or Facebook.
Swiss Market
May 11, 8am-3pm
Check out this once-a-year event for all the best things about Switzerland. Accordion and alphorn players, yodelling, chocolate, cheese, bratwurst, gingerbread, pastries and plenty of other uniquely Swiss food and craft. There is a big turnout every year for this cultural experience with Swiss nationals even booking flights from Nelson and Wellington for their annual real taste of home.
Danish House, Rockridge Ave, Penrose; see Facebook for more details.
Auckland Eid Day
A date in August is yet to be confirmed. Check website and Facebook for updates.
Auckland Eid Day is a biannual event celebrating the two annual Islamic holidays: Eid al-Adha, and Eid al-Fitr. Last year 7000 people came through the gates of Eden Park and it looks to be even bigger this year.
The morning revolves around prayers and after that it becomes a festival until late afternoon with food, cultural and clothes stalls and plenty of games (think kids' bungy, human foosball, jeeps, bouncy castle and other big fun activities).
Eden Park, Kingsland
For more details see aucklandeidday.co.nz or Facebook.
Viva Eclectika
August 31, 7pm
This dance concert was devised to encourage intercultural relations and always sells out to full houses. Dancers from different ethnic groups perform together in choreographed routines in which all cultures are represented. Watch Indian dancers shake their hips Pacific-style, Maori performers doing traditional Chinese dances and many more fascinating combinations. There is a $3000 first prize at stake so effort levels are high.
Be sure to book.
The Dorothy Winstone Centre, Auckland Girls' Grammar School ($15 pre-event sales)
For more information see Facebook.
Smaller festivals
Burmese New Year is mainly celebrated by the community itself but is open to anyone who may like to attend. There is traditional dancing and singing plus food. It's on April 13 at 79 Line Rd in Glen Innes from 10am to 4pm. See Facebook or contact tinmama@xtra.co.nz if you'd like to attend.
There will be an African Week in the second half of May to celebrate the 50th anniversary of the African Union but details are yet to be confirmed. See www.acofi.org.nz for updates.