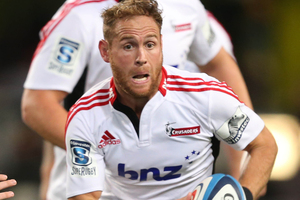 If having to dig deep for positive results is better for a team's long-term development than a regular diet of easy wins then the Crusaders should be in good shape if their victory over the Highlanders is anything to go by.
Crusaders halfback Andy Ellis, who briefly left the field in the first half for a concussion test which proved negative, called the 24-8 win at AMI Stadium a ``grind'' and it was an apt description.
Mistakes, referee Garratt Williamson's whistle, and the cold conditions all vied for the limelight rather than the big statement many thought the Crusaders would make after their successive losses on the road.
With an extremely strong wind at their backs in the first half, the Crusaders virtually camped in Highlanders' territory but couldn't breach them until 40 seconds before halftime through Robbie Fruean. A Jason Emery try for the Highlanders straight after the break gave them some hope of a first win of the season, but it was quickly gone again in another flurry of errors.
It was a match which won't make too many highlight reels but it reaped four competition points for the Crusaders.
"I was actually really pleased with the way it went,'' Ellis said. ``We won tough, which is what we haven't been doing. We just had to roll our sleeves up. It was a bit of a grind, especially in the second half against the wind when we had to build phases and go to set piece which is what we wanted to do.
"This was huge,'' he added. ``We talked all week about how tough it was going to be and the fact the Highlanders hadn't won a game. I'm really proud of the boys, especially the forward pack at how they fronted up, the pressure they put on their set piece was just awesome.''
It was indeed awesome at times, particularly at scrum time when Owen Franks was in the sinbin for whacking Jarrad Hoeata with his forearm. It seems that was an act of retaliation in a match full of niggle - Hoeata was subsequently cited for his contact with hooker Corey Flynn in a ruck.
Despite the Crusaders scrum being a man down, it still put immense pressure on the Highlanders pack. The less said about the Highlanders' lineout the better - five lost from their own throws in the first half tells its own story.
With a Sunday afternoon game against the Rebels in Christchurch to look forward to next, the Crusaders have every right to be cautiously optimistic, but the lack of fluency in their backline is a worry for them.
First-five Dan Carter should be back from his hamstring strain for the Crusaders match in two weeks against the Brumbies in Canberra.
"It's a good step in the right direction but we know we're going to have to keep building and getting better,'' said Ellis.
Crusaders 24 (Robbie Fruean, Tom Taylor tries; Tyler Bleyendaal 4 pens, con)
Highlanders 8 (Jason Emery try; Colin Slade pen)
HT: 16-0
- APNZ