Judge says 63-year-old David Ross 'a liar and a thief'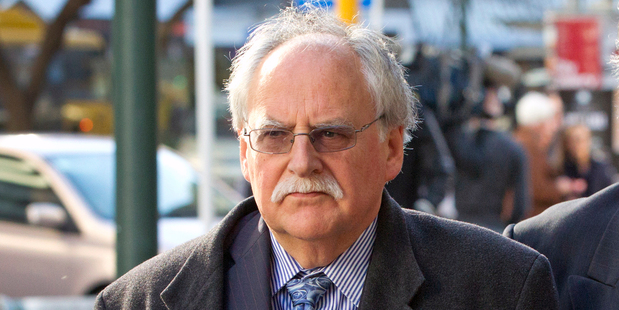 Ponzi-scheme operator David Ross committed one of the biggest financial swindles in New Zealand's history and has been handed more jail time than anyone else ever to face a Serious Fraud Office prosecution.
"The cold, hard reality is you were a liar and a thief operating on a scale unprecedented in this country," Judge Denys Barry said yesterday morning in sentencing the 63-year-old fraudster to 10 years 10 months' jail.
The sentence, handed down at the Wellington District Court, comes with a minimum non-parole period of five years and five months and is more jail time than any failed finance company director or anyone else involved in a Serious Fraud Office prosecution has received.
Queen's Counsel Paul Davison, who was not involved with the case, said yesterday afternoon that a sentence of that level for fraud was "significantly stern".
"I think what you can say is that a sentence of that level is certainly unusual."
Former SFO prosector Patrick McCann said Ross' sentence trumped anything he could remember for fraud. Asked if sentences for fraud were getting harsher, McCann said he did not believe so.
Instead he said there has been a focus recently on more "high-value" and "noteworthy" white-collar crime.
"I don't think the sentences are necessarily creeping up across the board, they're just higher because they're concentrated on obvious, huge financial failures," he said.
"The attitude to white-collar crime overall has not shifted, there's simply been a refocus upon large financial losses and collapses."
Ross pleaded guilty this year to eight charges, including four of false accounting and one of theft by a person in a special relationship.
Authorities said the former financial adviser ran a Ponzi-scheme through his Wellington business, Ross Asset Management, and disguised it by falsely reporting clients' investments.
A Ponzi scheme is when investors are paid out using incoming money from new clients rather than legitimately made profits or returns. Such schemes generally require a constant stream of new investors, who believe their funds are being properly used rather than being paid out to other clients.
The public gallery in the Wellington District Court yesterday was packed with victims of the Ross Ponzi scheme, which reported false profits of $351 million between June 2000 and September 2012 from the purported trading of fictitious securities.
The overall loss to investors when RAM collapsed in November last year was in excess of $115 million.
Rather than being motivated by greed, the judge said Ross' offending was driven by "some illusion, some sort of twisted form of vanity or hubris".
Judge Barry said Ross' actions had "blighted the remaining lives of the often elderly and all innocent citizens".
"Effectively, your hubris has wrought incalculable harm to many hundreds of people."
While he accepted Ross' remorse was genuine - demonstrated in court by the reading of an apology letter from Ross to his investors - any mitigating factors in his sentence had to be weighed against the sheer scale of his offending.
The letter, read by Ross' lawyer Gary Turkington, expressed Ross' regret over his actions. "I'm so sorry for the losses that you have incurred for my actions."
One investor, who read out a victim impact statement in court, yelled at Ross to look at him while he was reading it. He called out: "May you rot in hell."
- Additional reporting Teuila Fuatai of APNZ
Victim says term not enough
Bruce Tichbon, who lost money with Ross Asset Management and heads the victims' group Ross Support, said outside court yesterday the jail time was not enough.
"It is not a sufficient disincentive to stop further white collar fraud in this country. We have had a raft of it in the last five or six years, and I confidently predict we will see more."
SFO director Julie Read said more than 1,200 client accounts had been affected by Ross' scheme.
Financial Markets Authority chief executive Sean Hughes said he had the utmost sympathy for investors who had placed their trust in Ross.
"From next year, financial advisers who manage a client's portfolio under an investment authority will no longer be able to hold that money or property themselves," he said.
Among Ross' 700 victims were a couple who had given over their life savings in the hope of securing funding for their autistic son's future.
"This was to be the nest egg for the future care of our mentally disabled son," the wife said in a victim impact statement.
They planned to put investment returns towards a home for their son where he could live with others under supervision when they were no longer able to care for him, she said.
"He is entirely dependent on us."
Another investor said he and his wife invested $1.4 million in the company.
The pain and anguish had been too much for the man to even draft his victim impact statement, which had to be written by his wife, he told the court.
"I was not up to it, I was suicidal."