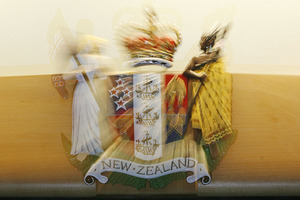 An osteopath accused of sexually violating and indecently assaulting 10 of his patients has denied any intentional wrongdoing in his treatment sessions.
Katikati man Richard James Davis, 53, is currently on trial at Wellington High Court for the alleged offending.
He has been charged with 11 counts of unlawful sexual connection and 13 counts of indecent assault in relation to the treatment of 10 women at his Gisborne practice.
Davis, who began giving evidence today, told the jury all treatment techniques he used were clinically necessary.
Concerns raised about his employment of "pelvic floor release work'' and "coccyx release treatment'' were unfounded, according to evidence given in court by Davis.
"This is not really a pleasant thing for the patient to receive.
"There's nothing really sexually stimulating about that,'' he said.
A video prepared by Davis detailing different osteopathic treatments showed jurors how he treated patients.
When asked by his lawyer Tony Snell why he chose not to use gloves in his treatment, Davis said it was because better work could be done through ``skin to skin'' contact with a patient.
"When an osteopath puts their hands on a person, you're getting a different set of information ... than a lay person is getting.
"Skin to skin contact - you just do the job better, no question,'' he said.
A claim by a patient that he had been ``unprofessional'' during a treatment session was also untrue, he said.
Rather, Davis said the pair had made a joke about unprofessional conduct in relation to the woman's wet clothes.
Davis also said he believed all the complainants had given their full, informed consent for various treatments during their sessions.
However, after hearing evidence from complainants during the past week, Davis admitted the patient consent was probably not at the level he thought it was.
"I would have to say that maybe the informed consent that I had wasn't as I good as I thought it was.''
He also said patients were asked three to four times during a space of 10 minutes whether they felt comfortable with the treatment technique.
Prosecutor Steve Manning earlier told the court all the women trusted Davis because of his position as a health professional.
Mr Manning urged the jury to consider whether Davis' treatment was clinically appropriate.
The trial before Justice David Collins continues.
- APNZ