Former police prosecutor says personal use after trauma led him into supplying friends at work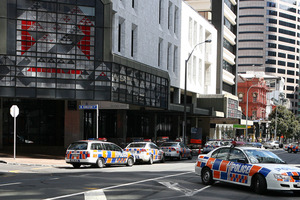 Written in black and white, the case against Tim Sarah is damning.
The former police prosecutor, who was yesterday jailed for four years after pleading guilty to five charges, was selling methamphetamine while taking cases against others for doing the same crime.
On more than one occasion, the drug deals happened during lunch breaks just a short distance from where he worked at the Auckland District Court.
Or sometimes the 1g snap-lock bags would be handed over to friends at the gym carpark, where he was a regular at Les Mills.
Intercepted text messages showed the 37-year-old talking about working different "body parts", which police say was code for P.
Sarah told the Weekend Herald that he took the substance known as "speed", which is P heavily cut with glucose and caffeine, as a stimulant to boost his physical training and later to cope with a horrific experience.
The eldest of three children in a middle-class family, Sarah was educated privately at St Kentigern College and earned his law degree at the University of Auckland.
He was a high achiever who cultivated a "staunch" shell, and a burly frontrower who played club rugby for North Shore. So it was a shock to friends and family when he was one of those arrested in November 2011.
He traces his hidden life back to a traumatic experience inside the Auckland District Court.
Nearly two years earlier in December 2009, he had successfully opposed the bail of a man who had an extensive criminal record.
Afterwards, the man's partner doused herself in lighter fluid in front of Sarah and set herself on fire.
He felt paralysed, could not find any fire extinguishers and didn't know what to do to help her as she ran into him screaming, causing them both to crash to the floor.
The woman survived - but the sight and smell of a burning body had a deep impact. He began experiencing nightmares and flashbacks. Staying up to party became a way of not needing to go to sleep and he bottled up his feelings to protect his tough image. He started taking speed a few months later, gradually increasing his consumption as his tolerance built up, followed by party pills in the weekend which lifted his mood.
"[The drugs] was good to take before a rugby game or training, you can thrash yourself, train harder ... gave me a boost. But a little bit over time becomes a little bit more ... then I suppose it became a coping mechanism."
He has since been diagnosed with post-traumatic stress disorder.
Sarah wants to be clear that he's not trying to excuse his behaviour. He knows what he's done is wrong and he's remorseful for the impact on his former colleagues in the police.
He's also devastated by the fallout on his family and girlfriend.
Over time, his rising personal use led to his selling drugs to other friends. "In my mind I always had these invisible scales of 'I'm doing more good than bad' or 'is it really that bad?' Because it was helping me to cope."
Most people convicted of supplying a small amount of heavily cut methamphetamine would be likely to escape a jail sentence.
The twist in this case, Justice Timothy Brewer said, was that he accessed the national police computer system. The breach of trust as a police employee led to the Crown seeking a prison term.
Detectives claim Sarah leaked police information to a friend, who is about to stand trial in a few months.
There are 80 instances where Sarah checked the names of Operation Ark targets or their associates.
However, he said that he was not privy to sensitive information as the police computer system which he accessed does not hold any.
He says most of the checks were to satisfy his own curiosity about different cases, court dates or sometimes check someone's criminal history. On one occasion, Sarah said his friend asked him to check a name as he may go into business with him and wanted to know if he was "dodgy".
"I never knew about any big group or syndicate. And prosecutors do not have access to drug squad information. I should never have done it but I was never paid."
The Crown relied on one bugged conversation in particular to highlight the breach of trust.
Sarah told the Weekend Herald that an individual's name had come up in connection to two separate arrests. In one case, the person arrested had approached him for advice on how to co-operate with the police. In turn, Sarah spoke to a detective he knew before calling his friend who was under Operation Ark surveillance.
"When you hear the same name come up twice, you start to ask questions. I said to [his friend], 'Is he part of something big that we don't know about? If he is up to anything, then he should take a holiday'.
"Meaning, he should stop what he's doing. Not get out of the country, like the Crown is saying. I didn't know what was going on."
The warning was passed on and the "take a holiday" phrase recorded by the Operation Ark team.
Regardless of motive either way, the police said Sarah had passed information gathered from discussions with other police staff to members of an alleged criminal group. And yesterday he paid the penalty by beginning his jail term.