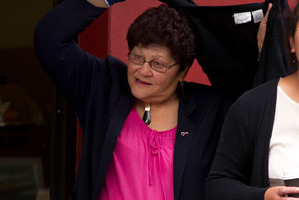 A man was cheated out of inheriting his father's $400,000 life insurance by his grandmother and another woman who spent some of the money on holidays and home renovations, a court has heard.
Ina Croft, 72, pleaded guilty to helping forge documents to gain access to the will of her son Jim Croft, who left $426,433 in life insurance when he drowned in 2008.
Croft took money that was supposed to be for Jim's son, Chanse Tautari, who has been left with the "vague" promise that he would get his inheritance back in his grandmother's will.
Croft was sentenced to home detention and community service yesterday when she admitted her part in the fraud, pleading guilty in the Auckland District Court to charges of forgery and using forged documents.
She took about $50,000 of Mr Tautari's inheritance.
Another woman, who has name suppression, will face court next year on charges relating to taking about $140,000 of Mr Tautari's money.
Croft's lawyer, Peter Eastwood, told the court the frail grandmother owned her house but lived a modest life funded by superannuation. Subsequently he said she could only afford to repay her debt to Mr Tautari at $10 a fortnight.
When asked by Judge Mary Beth Sharp where the money Croft took from her son's inheritance had gone, Mr Eastwood replied: "That's a good question."
The court was told some of the money was spent on home improvements while other funds went towards trips to Australia, where Croft and the other woman travelled to get Mr Tautari's signature on unknown documents relating to his father's will. "It's not hard to get through significant amounts of money when you start travelling and meeting relatives," Mr Eastwood said.
A pre-sentence report for the court suggested Croft treated her son's inheritance with a sense of entitlement, an allegation her lawyer challenged.
"I'm not trying to suggest that [Mr Tautari] hasn't lost an entitlement. But he was not a 10-year-old orphan," Mr Eastwood said.
"[This was a] man in his 30s living the good life on the Gold Coast [and] he received some of the money [from his father's legacy].
"He's not a 10-year-old orphan as a consequence of [his father's drowning]."
Judge Sharp replied: "That doesn't make it any better."
Croft, with her co-accused, was found to have produced forged documents to the High Court at Whangarei to gain control of her son's will.
Judge Sharp said Croft received about $50,000, her co-accused about $143,000 and the remaining funds were either left in a bank account, given to Mr Tautari or other family members, and some was distributed to a person unknown to Jim Croft.
Croft was found out when she was confronted by another family member, Judge Sharp said.
"Really, Mrs Croft should go to prison. This was serious offending, it was premeditated and it had the effect of splitting her family," the judge said.
"The only son of the deceased should have received his true entitlement, which is all of the proceeds of the life insurance payment.
"The best [Croft] can offer is $10 per fortnight as well as a vague promise to see to it that her grandson is named in her will as her sole beneficiary upon her death."
However, Judge Sharp said she was "unwilling to send an elderly ... woman to prison".
Croft was sentenced to six months' home detention and 400 hours' community work.
- APNZ