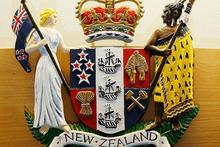 A man who randomly stabbed two tourists in Taupo has been sentenced to five years and eight months in prison.
Jason Jordan McKenzie, 18, was sentenced in Rotorua District Court today on two counts of wounding with intent to cause bodily harm and one charge of assault with a weapon in relation to the June 7 attacks in Taupo's town centre.
Two men were stabbed in the attacks.
Judge James Weir told McKenzie it was more by luck than anything else that the men did not suffer more serious injuries.
The sentence also covers an aggravated robbery conviction for a May incident when McKenzie threatened his flatmate with a knife and took $160 from him, as well as a charge of manufacturing cannabis oil.