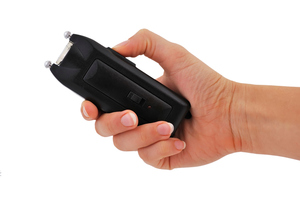 A South African woman who migrated to the West Coast has told a court that she carried a stun gun in her purse out of habit.
Maria Louw, 25, of Kumara Junction, appeared in Greymouth District Court yesterday on charges of driving with excess breath alcohol, refusing to accompany police, driving while suspended, unlawfully possessing a firearm and failing to furnish her driver's licence to the LTSA.
Police yesterday withdrew the drink-driving charge, and Judge Raoul Neave discharged her without conviction on all the others, but ordered her to pay $1000 towards the costs of prosecution.
Louw's licence had been suspended due to the accumulation of demerit points, but she ignored the order after her partner got involved in a fight with another man, breaking a collarbone, at a Blaketown property.
Police were called to the fight, arriving just as Louw drove away.
When told that she was taking her partner to the hospital, police followed and one officer took the man into the emergency department.
The other officer processed Louw for drink-driving and then asked her to accompany them to the police station.
Louw initially refused, pulling away from the constable and walking off, but she eventually complied.
A search of her handbag revealed the stun gun.
Lawyer Doug Taffs said the stun gun had been in her handbag ever since Louw arrived in New Zealand. Customs had not "batted an eyelid" when she declared it on entry to the country.
He said most women carried stun guns in South Africa and her continued use of hers was "cultural ignorance", not a crime.
Judge Raoul Neave said that Louw's actions, while unlawful, had been understandable. Neither man engaged in the Blaketown fight had been charged, but she had.
"The person who caused all this gets off scott-free, while you get left to clean up the mess," the judge said, discharging Louw without conviction.
- APNZ