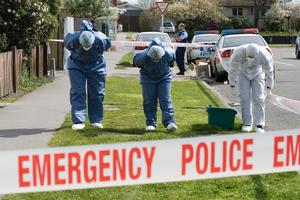 The Christchurch house under which two bodies were buried could be bought by the city council, although it may not get the chance if neighbours follow through on threats to burn it down.
The first body that was removed on Sunday was believed to be that of a 35-year-old woman who lived at the address. Her husband has been charged with her murder.
The second body, believed to be missing woman Tisha Lowry, was removed last night and a post mortem was conducted today.
Police were expected to formally confirm her identity tomorrow.
Ms Lowry, 28, lived a few doors down and has been missing for almost a year.
Meanwhile, the family who lived in the other side of the semi-detached house remained in alternate accommodation, paid for by police. They have said they would never return to their home.
Justine Araipu, whose sister lived in the attached home with her partner and six children, told 3News the house was now an urupa, or cemetery.
Christchurch police spokeswoman Maggie Leask said it was unclear what would happen to the Wainoni property once police wrapped up their investigation, however there had been threats from neighbours to burn the house down.
Ms Araipu said the family had gone in last night and removed all their photos.
"We are not going to risk losing our family heirlooms because people want to burn the house down."
Christchurch Mayor Bob Parker said a number of councillors supported buying the site.
"These latest deaths have shocked our city and stunned the local community.
"The council wants to work with this community to find a solution which would bring some hope and optimism," Mr Parker said.
"One option could be to remove the two houses and create a memorial park. Another could be to use the two houses to create a facility to support the work of the local community."
He said it was hoped the council would speak with the owners in the next day or so.
- NZPA