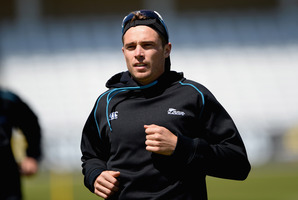 Tim Southee is likely to be rested for New Zealand's semi-final deciding match with England tonight.
The pace bowler has an ankle twinge and his fitness is being monitored by medical staff.
Coach Mike Hesson says they have not ruled Southee out, but the injury has hindered his ability to bowl at full capacity in the last few matches.
"We're confident if Tim's rested that he'd play a full part in any semi-final. We haven't decided who would replace him, that's a decision we'd make tomorrow."
Doug Bracewell seems a logical choice, given he filled in when Southee was rested for the second ODI in Southampton during the England series. Ian Butler is yet to play in England.
The other option is to bring back Grant Elliott who has largely recovered from his left calf strain. If New Zealand opt to bowl 30 overs of spin through Daniel Vettori, Nathan McCullum and Kane Williamson, like they did against Australia, it would leave Kyle Mills, Mitchell McClenaghan, Elliott and James Franklin to share 20 overs.
Southee struggled with the ball against Australia, taking none for 26 from four overs and going for 12 in his first. He went wicketless against Sri Lanka and took a knock to the boot edging New Zealand to victory with one wicket to spare. Southee also had a rare off day in the final match of the England series where he conceded runs at 7.22 an over and misfielded on occasion.

Hesson felt it was a side effect from his workload spearheading the New Zealand test attack. Southee was the pick of the New Zealand bowlers at Lord's where his 10 wickets earned a place on the honours board.

"Tim has been a bit ginger the last couple of games. He's had a sore ankle for a while. It's probably affected his performance.

"It's been giving him discomfort, especially with a heavy workload. We knew it would take its toll at some stage."

In contrast, Vettori's left Achilles tendon came through the match against Australia fine. Hesson was hopeful he would play against England.

The coach expected another tight contest with the score from the last two series levelled at 3-3.

"We've played six times in four months and it's locked up, it has been a ding-dong scuffle with the white ball. Both sides enter this match with a degree of trepidation. It's a big game, effectively a quarter-final and we're evenly matched.

"We can take confidence in that we've won three of last four completed games over here.
"Only 57.1 overs were bowled yesterday [between South Africa and the West Indies]. Even though it'd be a used wicket, it'd probably be playing at its best. We've only been on used wickets so far, so cutters and cross-seamers seem to be a reasonable option and taking pace off ball is another way of creating pressure."
Rain is forecast. If it prevents a contest, New Zealand will be ushered into the semi-finals and England will rely on the result between Australia and Sri Lanka.

With three points in Group A, and the highest net run-rate (+1.048) after bowling Sri Lanka out in 37.5 overs, New Zealand are poised to head to the Oval for their play-off match.

England are second (+0.289) and Sri Lanka third (-0.517) on two points, despite Sri Lanka hauling in England's 293 for seven to win by seven wickets with 17 balls to spare.

Australia (-0.960) need to beat Sri Lanka convincingly and hope New Zealand beat England, if they're to qualify without launching an Einstein-type equation.