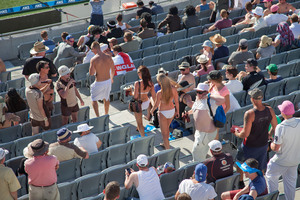 The fun police are at it again.
New Zealand's early batting implosion against England at Eden Park on Saturday night left the large crowd with little option but to amuse themselves on a balmy Auckland evening.
Unfortunately, the heavy-handed security staff were not in the mood to allow it.
The sight of people being ejected for making darts out of the 6 and 4 signs given to fans to wave during the match and floating them towards the pitch was unbelievable.
Did they think someone may have suffered a paper cut? No warnings, no discussion as patrons were escorted out of the stadium.
New Zealand cricket is struggling and can hardly afford to have paying fans discouraged.
But there was worse to come. Mexican waves have been a part of the sporting landscape in New Zealand for years but it appears they are now unwelcome at Eden Park.
I'm not a great fan but they have become an amusing sideshow when matches become bogged down. So my sympathy goes out to the good-natured guy dressed in the pink bunny suit who was trying to encourage the start of a wave in the north stand.
After a couple of tries, security pounced and out he went, much to the derision of fellow spectators.
He was doing no harm. In fact his antics were entertaining at a time when the match was flagging.
I spotted him after the match outside the ground and asked him why he had been ejected. He was told it was a "health and safety" issue.
I understand that there have been problems at Eden Park with bad behaviour but the advent of plastic bottles and strict bag inspections on entry makes it impossible to smuggle in anything that could be deemed remotely dangerous.
I'm sure there is something in the fine print on match tickets which precludes all sorts of behaviour but event organisers need to be aware that if they want bums on seats they shouldn't be discouraging a bit of fun.
What we had on Saturday night was a feeling that people were expected to sit still in their seats like naughty schoolchildren.
The pink bunny should feel aggrieved that he was red-carded when a cheesy radio stunt at the innings break obviously had the blessing of organisers.