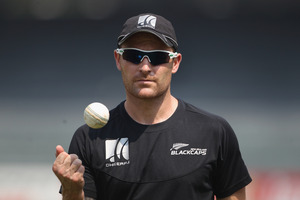 New Zealand Cricket's director of cricket John Buchanan has broken his silence but appears to have stuck largely to his employers' script explaining his future and his role supporting Ross Taylor during the captaincy coup.
Buchanan supported Taylor remaining captain in all forms but was overruled for what NZC claimed was a preferred split-captaincy option - with Brendon McCullum taking over in limited overs.
After being axed Taylor spoke about Buchanan: "John has been outstanding in this process. He gets a lot of flak but has been an amazing support for me."
Buchanan was keen to move on yesterday: "The position of captain is an old tradition. In Australia, they say it is second to the Prime Minister in public importance. It can't be taken lightly.
"I won't go there because I don't think it's fair to Ross or Brendon. Ross has been through plenty and it's now up to him to get back and be available for selection.
"I had discussions with Ross prior to Christmas. His future is really in his hands. He needs to find the fire inside to train, prepare and play cricket, starting with the domestic scene. Then he needs to return to being New Zealand's leading batsman. Until then, he'll struggle to make himself available."
Buchanan's role in the captaincy saga seemed pivotal. He says coach Mike Hesson reports to him, yet Hesson seemed to deal directly with chief executive David White and the board. It raised questions over the future for Buchanan who was appointed under a different CEO in April 2011.
His pedigree was impeccable: Australian coach from 1999-2007 who presided over a record number of consecutive test wins (16) and two World Cup triumphs.
The 59-year-old survived John Wright's departure - provoked after Wright learned Buchanan had been installed over him - but the latest fiasco has prompted observers to suggest he could be marginalised and "struggle to retain significance".
Buchanan and Hesson have had an awkward start with what one source described as "robust discussions" when Buchanan joined the Sri Lankan tour.
"Our time together has been limited, nonetheless the relationship has started," Buchanan says. "Mike is a young coach in terms of age and international experience. He knows I'm there to give him support. I'm not a person who believes in getting on the phone to him all the time or intruding into his space."
Hesson rang Buchanan after the 45-run innings humiliation at Newlands.
"I've left it open to Mike to call if he needs to. We had a brief chat where we discussed what was going through the players' minds and any thoughts I might have (to resolve the problem).
"I said it wasn't necessarily about the result but how they responded. The new ball still asked some questions but they were better."
Buchanan reiterated to the Herald on Sunday the mantra - integrity, trust, honesty and accountability - which NZC appear to have adopted to recover from a low ebb in the sport's history.
"They now need to continue to demonstrate those attributes at training, in the meeting room and on the playing field. It's a simple message but they get an extended break before the second test to implement it."
Buchanan stressed he was "100 per cent" committed to NZC but frustrated at the speed of change after almost 20 months leading the high performance programme.
"I'm happy with the plan we have but the impact it makes on New Zealand stakeholders can be slow. Humiliating results like those on day one in South Africa don't help.
"Part of my role as director of cricket is to produce a plan from under-19s through to the top women's and men's teams. I'm charged with embedding a cultural change so the results of day one at Newlands don't happen again."
Buchanan's methods have been positively received by some in the major associations. His current model is understood to extend beyond the 2015 World Cup and included plenty of consultation. He is believed to have been zealous about its implementation. At one meeting, he apparently said "if I don't fight for it, who will?"
He has been described variously as "thorough at canvassing opinion" and "happy to argue, debate and justify his point of view".
He returned to the coaching ranks when New Zealand A met India A in September and October and at an under-19 camp.
"Once a coach, always a coach," he says. "It's not just the sport but dealing with people. I enjoy doing that, but my current role is broader."