Yes South Africa were formidable, but all out for 45 is utterly unforgiveable.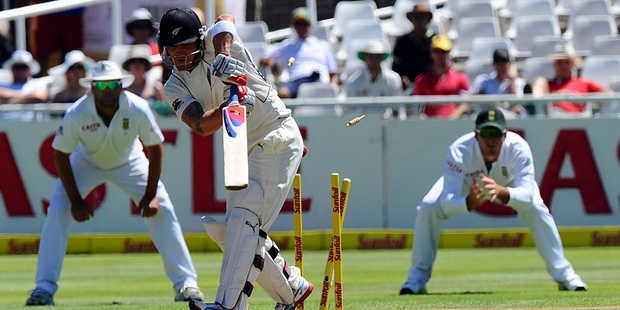 At the post-first-day press conference a journalist suggested to two South African players that the opening test could be won inside two days.
Whether that happened was irrelevant; it was more that this was even posed, and seriously, that put a neat fullstop on a day New Zealand cricket won't forget.
In close on three decades of reporting on New Zealand cricket, the opening day's performance at Newlands was the worst these eyes have witnessed. There have been sessions, or partial sessions, for which the gaze needed to be averted, even as recently as last season.
But this was a full 6 hours in which everything went wrong. After the batting shambles, the bowling wasn't good enough, some of the fielding schoolboy-ish, and that's being unkind to the youngsters.
Certainly, South Africa's formidably strong, and complementary, quick bowlers, Dale Steyn, Vernon Philander and Morne Morkel, can, and have, made life difficult for the best batting line-ups.
In rolling New Zealand for their third-worst test total, and the lowest in the last 39 years of test cricket, they turned the visitors' batting to spinach.
Philander, in particular, was superbly unrelenting. Five wickets in his first 25 balls at a personal cost of four runs is exceptional in anyone's book. Steyn and Morkel did their part.
But New Zealand's batting was collectively wretched. Inability to cover the area on and around their off stump helped make life easier for the bowlers.
No one had the technical know-how, ability or mental strength to hunker down and occupy the crease. They simply never got a toehold on the game in the morning session.
Once the slide began, no one was capable of halting the rot. New Zealand managed a total of five fours in the innings.
Later in the day, Doug Bracewell conceded 13 on his own as South Africa surged to a 200-plus lead by stumps.
Among the top seven batsmen, for all the positive talk leading up to the test, there were precious few moments of attacking intent.
Kane Williamson played one pleasant off drive and a clipped three towards square leg; McCullum cut a short ball from Steyn deliberately over slips; Daniel Flynn managed one punch to the cover point fence off Morkel, and that was about it.
Left-hander Flynn, a gritty type, was in 72 minutes, but faced only 28 balls. McCullum and Williamson were next best, facing 19 deliveries apiece.
Wherever you looked there were ghastly numbers to behold.
South African officials were fretting over whether New Zealand would be truly competitive, thinking in financial return terms over the scheduled last two days of the match.
Their worst fears were realised.
It was a truly depressing day, and with all the national anger over New Zealand Cricket's handling of the dumping of former captain Ross Taylor, came at precisely the worst time. They needed to show a united front, to stand firm. Instead they melted away in the heat of a demanding bowling onslaught.
At times there was a whiff of rabbits in the headlights.
How much did the Taylor saga affect the team? The players will publicly insist it didn't, and only they know their private thoughts, but certainly the backdrop was unsettling.
Blame NZC and, by extension coach Mike Hesson, and their ham-fisted treatment of Taylor for that, if not the actual batting yesterday.
Would Taylor have made a difference on Wednesday? There's no way of knowing, but he is clearly New Zealand's leading batsman. His batting presence would not have hurt the cause. A penny for his thoughts right now.
Who else at home who might have helped the top order? Jesse Ryder, but that's a different discussion altogether.
But those yesterday who were seeing the events at Newlands as some sort of justice for Taylor are off the mark.
That serves no purpose.
It was a sad day, too.
New Zealand's test DNA has been based around compensating for a shortage of real top international-class players with a willingness to scrap hard and make the best of what is available.
It is what has made them respected opponents by those with greater natural resources.
What must those who have gone before, who possessed those resolute qualities, thought as they watched this complete shower?
Newlands is among the world's premier grounds. The setting is superb, there wasn't a cloud in the sky. A near full house turned up.
But before the end of the day they'd tuned out. They'd hoped for a contest and got a rout, albeit one where their side was doing the damage. Even that can only sustain interest for so long.
"What have YOU done today?" a spectator shouted at the New Zealand players as they sheepishly headed for the bus after stumps.
Fair question.

How bad is it?
New Zealand were bundled out for 45 in their first innings in Cape Town last night. How bad was it? Really bad, actually.
• The total of 45 is New Zealand's third-worst in test cricket and the 12th worst in test history.
• It is New Zealand's lowest total in 66 years, since the 1946 side were bowled out for just 42 against Australia at the Basin Reserve.
• It is the worst team total in test cricket in 39 years, since India were bowled out for 42 in 1974.
• It is New Zealand's lowest total against South Africa.
• New Zealand batted for just 19.2 overs and 100 minutes - their shortest innings. New Zealand's lowest total is 26, against England in 1955, however that side batted for 27 overs.
• It was the shortest innings by a side after winning the toss and deciding to bat in 116 years. Australia were bowled out in 22.3 five-ball overs against England in 1896.
• It was the 23rd time in test cricket that New Zealand has failed to pass 100. The fifth time since 2002. Chris Martin has played in four of those five innings - scoring zero runs.
• Brendon McCullum played in three of those matches.
• Kane Williamson was the only batsman to reach double figures and top-scored with 13. It's only the 30th time in test history where 10 of 11 batsmen failed to reach double-figures.
• New Zealand scored just five boundaries.

Ridicule abounds
The New Zealand Cricket team's woeful batting display in South Africa has prompted ridicule from the cricketing Twitter world, and despair from faithful fans.
• "New Zealand 27/4. Ryder and Taylor to the rescue then? Oh." - cricinfo's Twitter feed.
• "Australia made 47 last year full strength. NZ makes 45 half strength. #moralvictory?" - Scott Styris.
• "If we pick up 7 wickets before lunch then we are right back in this." - Lou Vincent.
• "Morning NZ - that score isn't a bad dream, unfortunately. Philander was exceptional... NZ batsmen not good enough." - Iain O'Brien.
• "#blackcaps fans in our house are retired hurt this morning." - @esoap.
• "Match referee David Boon drank more cans of beer on a flight to the UK than the #BlackCaps scored runs in the first innings." - Michael Cummings.
• "It's time to call Beaver." - Scotty Stevenson.
• "I'm going to put password lock on SkySports till the end of the #BlackCaps tour. My 9 year old doesn't need exposure to this." - Paul Le Comte.
• "If you have children watching, send them to bed, this will traumatise them for their cricketing life." - Labour deputy leader Grant Robertson.
• "Sad when a side doesn't bat out its 20 overs. Even sadder when it's a test match." - Wide World of Sports' Andrew Voss.
• "Boundary! SA needs to tighten this s*** up!" - South African comedienne Urzila Carlson after one of NZ's few boundaries.

David Leggat travelled to South Africa with the assistance of ANZ.