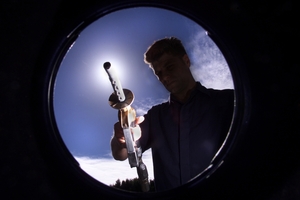 Consumer prices rose 0.9 per cent in the September quarter, mainly reflecting higher petrol prices and seasonal increases in vegetables and local body rates.
It pushed the annual inflation rate up to 1.4 per cent after four successive quarters below the bottom of the Reserve Bank's 1 to 3 per cent target band.
Non-tradables inflation, which reflects those prices unaffected by world prices or the exchange rate, continued to edge higher on an annual basis.
At 2.8 per cent it is the highest it has been for four years if the effects of the GST increase in 2010 are excluded.
The Reserve Bank is watchful for signs of construction cost inflation spilling over from Canterbury to the rest of the country.
But for the second quarter in a row construction cost rises slowed in Canterbury, albeit the annual rate is still 9.8 per cent, and in the rest of New Zealand the annual increase in construction costs was unchanged at 3.1 per cent.
A 5.6 per cent rise in petrol prices explained nearly a third of the quarterly increase in the consumers price index. Prices at the pump hit an all-time high in the third week of July, though they fell 4 per cent from that peak by the end of September, Statistics New Zealand said. Diesel prices rose 6.7 per cent.
A 20 per cent rise in vegetable prices explained another third of the CPI increase, but economists expect the normal seasonal pattern to see that unwind over the next few months.
A 3.5 per cent rise in local body rates contributed to a 1.4 per cent quarterly increase in central and local government charges, continuing the pattern where government charges significantly exceed general inflation.
Measures of core inflation edged higher. The Reserve Bank's preferred measure, which had been steady at an annual rate of 1.5 per cent for the previous five quarters, crept up to 1.6 per cent.
The 10 per cent trimmed mean, which disregards the largest price increases and falls and reflects the broad mass of prices in between, was 1.4 per cent, up from 0.8 per cent in the June year.
And the weighted median increase was 1.8 per cent, up from 1.3 per cent in the year to June.
Deutsche Bank chief economist Darren Gibbs said the Reserve Bank would view the September numbers as confirming the picture in its September forecasts, that an increase in the official cash rate of 75 to 100 basis points is likely next year.