Bruce Springsteen superfan Hayden Donnell explains the sort of dedication which has led to a new concert film.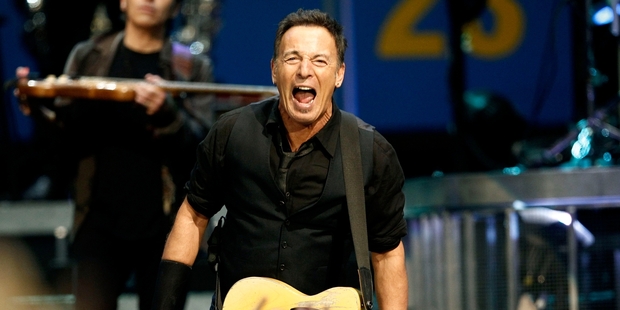 Bruce Springsteen was sprawled on stage shaking hands with fans and singing Out in the Street when he saw the sign. Hundreds of people scribble song requests on cardboard for every Springsteen show, but this one was different.
It was being held up by 11-year-old Grace Mahler. Strangers had lifted her on their shoulders to get her from her place at the back of the moshpit to a space in Bruce's eyeline. Her request was for Terry's Song, a ballad he had written after the death of his assistant Terry MacGovern. She wanted him to play it for her friend Sydney Wood, who had suffered a brain bleed and died, aged 11, a few weeks before the show.
Springsteen caught Grace's eye, hit his heart with his hand a few times, and took her request. It would be only the third time he had sung Terry's Song live. Before launching into the first verse, he looked at her again and gave the dedication: "This is for your friend also."
My wife and I were in the audience that night. We had travelled via New York to Hamilton, Ontario - a city about halfway between Toronto and the tacky neon casinos of Niagara Falls. Smoke from half a dozen steel mills clogged the air on the way into town. Springsteen's show was in a huge empty ice hockey arena built as part of a failed bid to attract a major NHL franchise.
I became a Springsteen fan after he released Devils & Dust in 2005. Slowly I became indoctrinated. At first it was just the country-tinged stuff, then Darkness on the Edge of Town. Eventually even those sax solos started sounding good. A flatmate found me holding back tears on the couch, listening to The Rising. Commuters stared as I yelled out Thunder Road at traffic lights.
When it became clear Springsteen wasn't booking a New Zealand stop on his Wrecking Ball world tour, I panicked and booked tickets to two gigs in Canada. I have no regrets. It was worth going to Hamilton for Terry's Song alone.
Grace's mum wrote to the Springsteen fansite, Backstreets, the next day: "Last night as we tucked our excited but exhausted little girl into bed she looked up at us and said, 'Sydney is smiling tonight.'
"If you could pass on a message to him somehow that he has made a little girl's grief at the loss of a friend a little lighter, knowing that love is a power greater than death, we would appreciate that very much."
Moments like that one are the backbone of the new Ridley Scott-produced doco, Springsteen & I. The film isn't a traditional rock doco - more a tribute to Springsteen's special relationship with his fans. Many of the submitters become co-stars: a recently dumped man who receives an onstage hug from his hero, an Elvis-impersonating Boss fan with a thick New Jersey accent, and a Copenhagen street busker who convinces Springsteen to accompany him.
Other submitters get choked up trying to explain what Springsteen has meant to them. Their passion speaks of his ability to take the dark parts of life, add a sax solo or two, and craft them into songs of unadulterated hope.
That refusal to give in to cynicism is part of what makes Springsteen great. He takes everyday drudgeries and invests them with real meaning. Puts little people into big rock songs and leads them up on to the stage. Springsteen & I reveals the impact those songs have had. Springsteen's refusal to disconnect from his fans' reality, no matter how vaunted his own reality becomes, is at the heart of the movie. Go see it.
What: Springsteen & I
Where and when: Selected cinemas from Sunday, Aug 4
* Hayden Donnell is the frontman of the band Great North, who are playing at The Bunker, Devonport, on Sunday, 8pm (bookings (09) 445 2227 or realmusic@xtra.co.nz)
Follow @nzherald_ent on Twitter for all the latest entertainment news.
- TimeOut