Graham Reid talks past and present with country singer-songwriter Emmylou Harris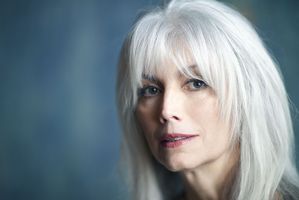 That Emmylou Harris has known singer-songwriter Rodney Crowell since 1974, but has only now got round to recording a duet album with him, makes her seem a little tardy, if not downright remiss.
But here is Old Yellow Moon, a dozen songs with Harris and Crowell sharing credit, and enhanced by typically superb musicianship from members of her touring band, Bill Payne from Little Feat and Vince Gill.
"I don't know why it took us so long," she admits. "We've been talking about doing this record probably from the first time we sat down and sang together. But he's been real busy and I've been real busy.
"Rodney and I never really take a rest, we enjoy working. Finally we just decided to put a sacred circle around this period of time to start - and finish - this record."
Some of the songs were from Crowell's back catalogue that he hadn't recorded, or ones they'd always liked, and their choice for the title track is telling.
"The lyrics are about two friends who've known each other for a long time and have a great affection for one another and share a common history.
"And there is such a sweetness in those lyrics. I've had that in my list of songs to do since about 1994 when it came to my attention through my friend Hank DeVito, one of the co-writers.
"It was obviously meant for this record, and for Rodney and I. The cut on the album is the demo, the first time we sang that song together, so it captured the essence of why this record came to be, Rodney and I just sitting down and singing together. Like we have since 1974."
The album features no songs by 65-year-old Harris who had a brief, if late-career writing spurt across her albums Red Dirt Girl, Stumble into Grace and Hard Bargain since 2000. She admits she hasn't put time into writing recently, but she's happy to have her interpreter and harmony-singer hats on.
"They fit me well and I enjoy wearing them. At some point I hope to get back to the writing, but I never feel an urgency. [For Hard Bargain] I set aside time to write and not do anything else and wrote pretty much all the songs over a certain period."
The exception, which she sang sublimely at her Vector Arena concert last November, was Darlin' Kate, written as the album was wrapping, for her friend Kate McGarrigle, who died in early 2010.
"That song is still very raw for me because Kate meant so much to so many people. I'm hoping in that song I wasn't speaking just for myself. That's why the 'we' is in there, because she was so extraordinary and touched so many people.
"She was such a character and so inspiring. I don't want to make her sound like a saint, because she was incredibly human. But she was one of the most extraordinary women I've ever known, as well as an artist. I still don't know if people are aware of the depth of her songwriting.
"And also [Kate's sister] Anna. If I had to pick one body of work the McGarrigles' stuff is what I would choose, this is what takes me to a different place.
"I don't think anyone else goes there in the way they do."
The shadow cast over Harris' career is that of her former partner, Gram Parsons, who died 40 years ago this September.
As recently as Hard Bargain two years ago, she wrote The Road about how Parsons had set her on this musical path. "I certainly wouldn't be doing what I'm doing without meeting Gram. He turned my whole idea of music on its head and helped me find my own voice. Before that, I was kind of a Joan Baez wannabe, and no one was ever going to be Joan Baez except Joan. So I don't think I would have found that particular spot where I can shine, for lack of a better word, without Gram."
Harris, known as an astute picker of songs as much as being a singular interpreter, says that what draws her is the poetry in the lyrics.
"It's the way words resonate and you just feel it is real, the beauty and sound of words. To me it's a mystery and I think we don't ever have to need to know why, we just have to get on the wave and ride it."
Accomplished at singing ballads, folk, country-rock, honky-tonk and more, she knows one place her voice won't take her.
"Opera. Someone once said that style was a product of your limitations and you have to be grateful you can't do everything.
"Because if we could, we'd all sound the same," laughs the woman who sounds like no other.
Who: Emmylou Harris
What: New album with Rodney Crowell, Old Yellow Moon (out now)
Essential listening: Emmylou Harris: Luxury Liner (1977); Evangeline (88); Wrecking Ball (99); Red Dirt Girl (2000); Hard Bargain (2011). Rodney Crowell: Diamonds & Dirt (88); The Houston Kid (2001); Sex and petrol (2008)
- TimeOut