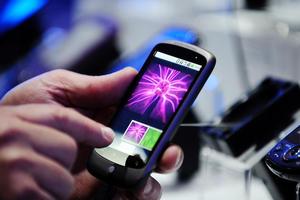 BARCELONA - Google chief executive officer Eric Schmidt, whose company is expanding in mobile devices to boost sales growth, said phone makers are shipping more than 60,000 handsets a day with the company's Android software.
"We are now shipping more than 60,000 Android devices in the Android industry per day and that number has doubled over the last quarter," Schmidt said at the Mobile World Congress in Barcelona yesterday. "The growth rate is accelerating and we hope the growth rate, as well as the demand, will continue for a very long time."
Google, owner of the most-popular internet search engine, is boosting investments in the mobile-phone market as demand increases for devices such as Apple's iPhone which can surf the web, take pictures and play music. The Android software, first offered on a phone in 2008, is used by Motorola's Droid device and runs on Google's own Nexus One handset.
Schmidt also said yesterday that the company is introducing a "mobile first" principle to ensure that new programmes and applications are specifically developed for mobile phones.
The mobile phone is "fundamental to everything you do and it's the extension of everything we are", he said.
Google, based in Mountain View, California, rose US$8.18 to US$541.30. The shares have dropped 13 per cent this year.
- BLOOMBERG