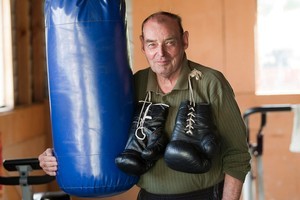 Kevin Barry, a talented boxing trainer who prepared hundreds of young men for careers in the ring, has died in Christchurch.
Boxing New Zealand chairman John McKay confirmed Barry's death at the age of 74.
Said McKay: "He was one of our best-performed coaches. He probably produced the best results of any boxing coach in the last 40 years."
Barry was the New Zealand elite boxing coach for many years, including when Jimmy Peau won his gold medal at the 1986 Edinburgh Commonwealth Games.
He had his proudest moment as a trainer when his son, also Kevin, won a silver medal at the 1984 Olympic Games in Los Angeles, beating American Evander Holyfield in a controversial result.
Barry, involved in the boxing game for more than 60 years, developed training programmes that were put to use by sportsmen other than boxers, among them Crusader rugby players.
Former New Zealand test cricketers Shane Bond and Nathan Astle credit Barry for helping them return from injuries fitter and stronger.
Barry was appointed an officer of the New Zealand Order of Merit (ONZM) last year and his achievements were earlier marked by an MBE in 1995.
Barry was not a one-dimensional boxing man. He and wife Myra fostered many children and backed several causes supporting young people.
Barry said last year after closing his boxing gym that training young boxers still gave him the greatest thrill.
Seeing them enjoying themselves convinced him that his attempt at retirement would not last.
"I said enough was enough when I quit, but I was back two weeks later. I just couldn't give up boxing."
Barry always said discipline was the key to success in the sport but training hard, sheer ability and enjoyment were also vital.
"If you want to be good at boxing, you have to put in the hard yards," Barry said.
- NZPA