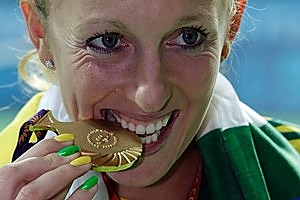 Be afraid. Be very afraid. We need to get ready for some advanced Australian fare.
Far from being happy with their haul of 74 gold medals in Delhi, the Australians have acknowledged that only seven of those performances would have been good enough for the top step of the podium at the Olympics.
Statistically, the 2010 performance was their worst Games performance since 1978 (see accompanying story) and the writing has been on the wall for a while. A research paper titled "Australian Sport: The Pathway to Success" was released in May this year and painted a bleakly realistic picture.
"Australian sport is at a critical junction," the report stated, "We are rapidly losing our highly coveted competitive edge. Over the past decade there has been too much talk, too little action and reports on shelves gathering dust. There is a real danger," it continued, "of losing all of the momentum created by the 2000 Sydney Olympics."
"Our traditionally innovative systems and practices are not keeping pace with competing nations' efforts," the report concludes.
The response has been immediate. As well calling for structural and strategic changes, the government has committed an additional A$120m (NZ$157.3m) into high performance sport over the next four years, the biggest single injection of funds into Australian sport ever. These funds come on top of the A$160m (NZ$197m) that is already poured into elite sport over the Tasman each year, which includes the A$40m (NZ$52.44m) allocated annually to the Australian Institute of Sport.
In 2010-11 swimming grabs another A$3m (NZ$3.93m) to boost its high performance funding to A$7.26m (NZ$9.52m). Swimming NZ receives NZ$1.35m in total. Athletics has been bolstered to a total of A$5.5m (NZ$7.24m) NZ athletics gets NZ$1.3m. The funding of sailing has been almost doubled (to a total of A$4.73m (NZ$6.2m); Sailing NZ gets NZ$2.15m and Australian rowing now receives A$5.42m (NZ$7.11m), over twice as much as their Kiwi counterparts.
There are increases in funding for 25 sports including wakeboarding, polocrosse and bocce. Even touch rugby has been increased by A$120,000 (NZ$157,000), more than three times the total amount allocated to tennis or shooting in New Zealand and twelve times the bounty given to archery.
Sparc has a total annual budget of NZ$42m for high performance sport. This will increase to NZ$52m in 2011 and NZ$60m for 2012. While government funding doesn't guarantee an Olympic or Commonwealth Games medal, it is increasingly recognised that its absence almost certainly ends any chance of winning.
"High performance sport is global," says Australian Sports Commission (ASC) spokesman Dion Russell of other expenditure, like training bases in Italy, "and you have to be connected to Europe. It was okay [in the years] before Sydney as everybody came here to compete but leading into London or Rio nobody wants to come South."
Outside megapowers the USA and China, the Australian Institute of Sport (AIS) is held up across the world as the model of sporting excellence. From humble beginnings in 1981 where just eight sports were supported, it now provides high performance programmes in 29 different sports.
At the 1984 Olympics Australia claimed four golds (24 medals in total) and finished in 14th place overall. Two decades later in Athens the full effect of the AIS was felt.
Green and gold athletes hauled in 49 medals for fourth on the medal table - only the USA, China and the Russian Federation won more.
Another Australian government research paper has estimated that the high performance talent pool in Australia is around 200,000 people. The same research argues that the USA has about two million such people to draw from; China can count on 20 million.
Current women's Black Sticks hockey coach Mark Hagar has experience of both New Zealand and Australian systems.
"They are pretty much on a par," he says. "In some areas New Zealand is ahead, in others Australia takes the lead."
Eric Hollingsworth is another who has sampled life on both sides of the ditch. Hollingsworth was high performance director for Athletics New Zealand between 2005-2006 and is currently employed in the same role for Athletics Australia.
"They [SPARC and ASC] operate under similar guidelines; there are the obvious idiosyncrasies that come with each country but I was able to interchange between them quite comfortably. I would say Sparc can probably be a bit more efficient because of their smaller size - there is less bureaucracy."
Hollingsworth refutes the suggestions that the Australians are tougher with their targets. "Sparc were as demanding of me, as are the Australians at the moment," he says.