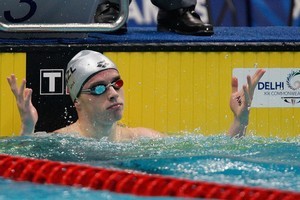 Commonwealth swimmer Daniel Bell's grandmother has come to his defence, saying he is a "lovely grandson".
Bell was sent home from the Commonwealth Games for drinking two beers after winning a silver medal in the men's 100m backstroke.
Swimming New Zealand said yesterday the latest transgression was unlikely to affect his future in the sport.
His grandmother Dorothy Rea said Bell did not have a problem with alcohol.
"No, definitely not. He hasn't got an issue with alcohol. They just don't drink because they are always training and swimming," she said.
At the 2008 Beijing Olympics, team-mates Dean Kent, Corney Swanepoel and Cameron Gibson were expelled from the NZ team and the Olympic village after taking a photo of a drunk Bell sitting on the toilet seat at a function.
And last year, Bell was admitted to hospital in Rome, suffering from excessive alcohol after the completion of the world championships.
Rea said she was very proud watching Bell in New Delhi.
"I was clapping away. I mean it's a huge achievement. He has done so well through his heats and everything.
"All I can say is Daniel is a lovely grandson, he really is."
Kent said he believed Bell had worked hard to address his alcohol issues.
"Swimming NZ has a policy which the swimmers all bought into, therefore he got punished. That's a pretty open and closed policy," he said.
Swimming NZ chief executive Mike Byrne said the zero alcohol policy was put into place early this year by head coach Mark Regan.
Byrne did not think Bell had a drinking problem.
"Swimmers make supreme sacrifices in relation to alcohol. I mean you can't meet the rigours of the strong training regime and be drinking all the time."
Byrne said he did not know if Bell was misbehaving after drinking.