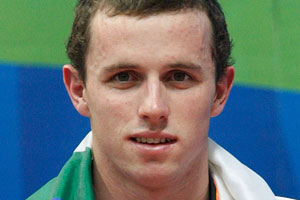 Swimmer Daniel Bell, sent home from the Commonwealth Games for having two beers, has been defended by his father as a focused young man who will do whatever it takes to fulfil his lifelong dream.
Bell won silver in Delhi in the men's 100m backstroke as part of a successful run by the New Zealand swim team, who won six medals.
His father, Murray Bell, said swimming at the top level had been his son's dream since he was 9 years old, and he was fully committed to it.
"He lives for it. It's like a fulltime job," he said.
"I don't have a clue what he can achieve. If he puts his mind to the next Olympics and goes for a gold medal, he will do his utmost to get there."
Murray Bell said Daniel was a self-driven, laid-back young man who knew his priorities.
He would not comment on the drinking until he had had a chance to talk to his son, and even then it would probably not be his place to comment, he said.
Swimming New Zealand chief executive Mike Byrne said Daniel Bell had broken the team's zero-tolerance-of-alcohol policy by having a couple of beers after his race.
He acknowledged Bell had alcohol issues which needed to be addressed.
But the disciplining of Bell for having just a couple of post-race drinks and Mr Byrne's comments have upset some close to the family.
"Hell, if it was me I would have a couple of beers," said one source. It was "absolutely bullshit" that Bell had a drinking problem.
"He doesn't. They [the swimmers] don't drink," the source said.
"If you get drunk twice in three years, would you have a drinking problem? I think the people who make these rules need to get out and sit in a pub and see what other 18- to 25-year-olds do before they start making comments on athletes having a drinking problem."
The source questioned the standards set by Swimming New Zealand.
It is the third time in the past two years that Bell has been involved in an alcohol-related incident while overseas with a New Zealand team.
At the 2008 Beijing Olympics, three teammates were expelled after taking a photo of a drunk Bell sitting on the toilet at a social function. Last year, Bell was admitted to hospital in Rome for excessive alcohol intake after the world championships.
- Additional reporting: NZPA