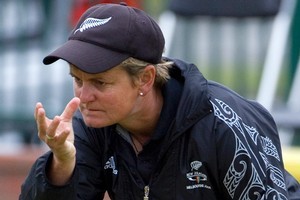 New Zealander Val Smith had to settle for silver last night after she was outplayed by young English bowler Natalie Melmore in the women's singles final.
However, second place still signified a remarkable comeback for the world champion and world No 1, who had looked to be down and out midway through section play this week.
But the Nelson bowler wasn't able to continue a six-match winning streak, with Melmore winning 7-6, 11-2.
It wasn't that Smith, 45, played poorly. It was just that her 21-year-old opponent repeatedly pulled out superb shots at key moments.
Earlier, Smith had beaten another 21-year-old, Kelsey Cottrell, the world No 5, 9-7, 4-8, 4-3 to qualify for the gold-medal match.
She made it through by upsetting Malaysia's Siti Zalina Ahmad in the other semifinal.
- NZPA