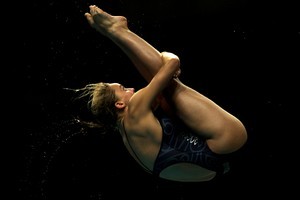 There were smiles, whistles and high fives at the Commonwealth Games pool tonight for 14-year-old diver Gabe Armstrong-Scott, when she cracked 300 points for the first time on her way to 10th in the 10m platform final.
Wellington schoolgirl Armstrong-Scott, who turned 14 on August 30, failed to qualify for the Games but was sent to New Delhi to get experience, with an eye to the 2012 London Olympic Games and beyond.
After a nervous qualifying session in which she scored 253.05 points, she returned for the final in a different state of mind.
She reeled off a four 60 point-plus dives for a total of 306.70 points, a New Zealand record by more than 20 points, giving a snapshot of what the selectors saw in her.
Her third dive, a backward 2-1/2 somersault with 1-1/2 twists - the most difficult she attempted - reaped 65.60 points, which saw Armstrong-Scott emerge from the pool beaming.
Her next was worth 65.25 points, moving her to eighth and in splashing distance of the top six.
Coach Stephen Zhu greeted that one with a wolf whistle, then high-fived his charge as she climbed from the pool.
He was still smiling after a 52.65 final dive dropped Armstrong-Scott from eighth to 10th, saying the standard of the competition was very high.
"It was her first time over 300 points, and the standard was world class," he said.
"She is quite young and she did a fantastic job. In the morning, it was her first time at the Commonwealth Games, and she was a little bit nervous."
Zhu said he felt Armstrong-Scott was ``definitely'' capable of 340-350 points.
World No 3 Pandelela Pamg of Malaysia won with a stunning last dive, pulling out an 80-plus effort to nab Australian Melissa Wu 371.05 points to 369.40.
Alexandra Croak of Australia took the bronze on 355.40 points.
- NZPA