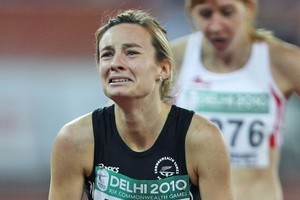 Nikki Hamblin etched herself a place among the great names of New Zealand athletics in Delhi last night.
The 22 year old won her second silver medal of the Commonwealth Games, completing a coveted middle-distance double.
On Thursday she ran a "perfect" race to finish behind Kenyan Olympic champion Nancy Lan'gat in the 1500m. Last night she had to battle from way back in the finishing straight to finish in 2m 00.05s, just .04s behind world champion Lan'gat.
It was New Zealand's 25th medal of the Games and the 17th silver.
Video: Watch Hamblin's amazing sprint finish
Hamblin became just the second woman, behind Lorraine Moller in Brisbane 1982, to win two individual medals on the track and just the fifth New Zealander, with Cecil Matthews (1930) and Peter Snell (1962) and John Walker (1974).
Hamblin had been suffering from "Delhi belly" on Monday, but put that aside to put on a blistering finish after appearing out of the race with 200m to go.
"I was prepared for a fast race because the Indian girl [Tintu Luka] went out hard in front of her home crowd," said Hamblin, whose time was less than half a second outside her personal best set last month in Croatia.
"The plan was to hang back and hope she came back, which she did. We got to 150m to go and I thought, 'right, I'm going now'."
"I just really wanted it and fought all the way to the line... I came into the final with nothing to lose. I've already got a medal but an extra one is great."
Coach Chris Pilone, with whom Hamblin appears to enjoy a classic love-hate relationship, was thrilled for his pupil.
"We had a relaxed day at the village where a group of us sat around playing 500. We came out here as a group too. We had a good feeling, especially as last night was quite tense."