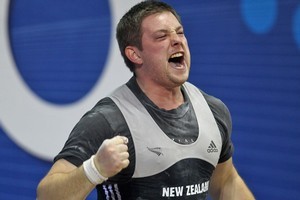 Auckland weightlifter Stanislav Chalaev won an emotional silver medal in his 105kg division at the Commonwealth Games last night.
The 23-year-old lifted a personal best total of 334kg - 150kg in the snatch and 184kg in the clean and jerk - to make his first Games one to remember.
It was an occasion to savour, but tinged with sadness for Chalaev, who came to New Zealand with his mother, Larissa Reid, when he was 12.
He didn't speak a word of English and took up weightlifting soon after arriving. Sadly his mother died last year. He dedicated his medal-winning performance to her and others who have helped him get through a personally difficult time.
"Everyone's got ups and downs, it's just a matter of picking yourself up and doing what you want to do," he said.
"I don't have any family in New Zealand but I have my weightlifting family looking after me, and my partner's family
really helped me out.
"It's very emotional, but just great."
Chalaev clutched a photo of his mother on the medal dais while coach Adam Storey shed tears at the side of the stage. He has never returned to Siberia, where he was born, but hopes to sometime soon to catch up with family and old friends.
The favourite, Samoan Niusila Opeloge, overcame an early scare when he missed with his first two attempts at the snatch to win the gold medal with a combined score of 338kg.
He followed his sister Ele, who won the women's 75kg and over class easily earlier in the day.
Nigerian Curtis Onaghinor won the bronze medal, finishing 2kg behind Chalaev.
Earlier North Shore's Tracey Lambrechs finished a commendable fifth in the women's event, where 12 Games records were broken by all three placegetters, Opeloge, Nigerian Maryam Usman and Australian Deborah Acason.
It was a quality field. The three medallists were fourth, fifth and eighth respectively at the Beijing Olympics in 2008.
Lambrechs set personal best marks in both disciplines, plus for her overall total and was close to the relevant national records.
She made 99kg for the snatch and 127kg in the clean and jerk, for a total 226kg, which was 59kg behind Opeloge's mark. A total of 235kg would have qualified Lambrechs for next year's world championships in Paris, so she's closing in on that target.
"I was stoked," she said.
"That was a really high standard out there. I wasn't too sure how i going go against them, it's not often I come up against those girls."
She had taken a ton of confidence out of her performance.
The national championships are next up in Invercargill next month, with the Commonwealth championships in Cape Town in April to follow.