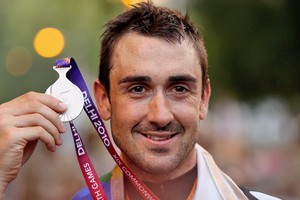 Cyclist Hayden Roulston rose from his sickbed to win a dramatic road race silver medal for New Zealand at the Commonwealth Games today.
Roulston was pipped on the line by world class Australian sprinter Allan Davis, with Scotland's David Millar third.
In baking conditions, Roulston nearly capitalised on a brilliant display of team riding from the six-strong New Zealand group over the 168km journey.
Commonwealth Games medal tally
An early break from Sam Bewley and Marc Ryan was followed by a long, gutsy ride from Gordon McCauley and a late bid for victory from Jack Bauer.
But it was European-based professional Roulston, 29, who had the lungs to be there at the death and he came painfully close to winning his country's first road gold since Mark Rendell in 1994.
"The last two days I've been in bed crook, I've had bad flu symptoms," Roulston revealed shortly after crossing the line.
"I was contemplating not starting today, just due to how I was feeling last night. I was terrible and I reckon when the caffeine gets out of my system I'll be terrible again.
"But it's basically my last race of the year so it was all or nothing."
Roulston adds to his previous Commonwealth Games medals, both on the track. He won a bronze team pursuit medal in 2002 and snared a points race bronze at Manchester four years ago.
Earlier, New Zealand's chief medal hope in the women's race, Catherine Cheatley, was also battling illness as the New Zealanders were shut out of the medals.
Joanne Kiesanowski was the best of them, finishing fourth in a race notable for countless attacks by the New Zealand riders.
Cheatley and Linda Villumsen were prominent with their aggressive riding but the race evolved into a bunch finish which was won by another Australian, Rochelle Gilmore.
- NZPA