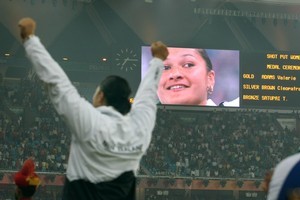 Gold medal shot putter Valerie Adams' coach paid tribute to her former mentor yesterday, while predicting bigger and further things to come.
French throwing "professeur" Didier Poppe believes Adams has another metre to come on the 20.47m she threw to win her second Commonwealth Games gold in Delhi.
"Yes, absolutely. It is not only me that thinks that. Everybody who knows shot put would say the same thing - we have got to gain another metre on this," he said. Poppe said the changes they have made to Adams' technique and training had yet to show real benefits, which is perhaps why he acknowledged the work done by Kirsten Hellier whose long association with the Olympic champion ended in March.
"I am very happy for Valerie to do that because she had such a bad year this year. To finish with such a good performance at the Commonwealths is a good achievement.
"All the team that is behind Valerie should be very happy.
"I am also thinking of Kirsten Hellier for all the work she has done. She's also a part of this, she's part of this," Poppe said.
He said he had not contacted Hellier because they lived busy lives, "but I am always thinking about what they achieved".
Adams was yesterday wearing a T-shirt presented to her by the New Zealand Olympic Committee that said "Sir Ed said it best", in reference to his "knocked the bastard off" comment after conquering Everest.
While his final steps were a fraught trip into the unknown, Adams has been there, done that. With a Commonwealth, Olympic and world titles already behind her, there was little doubt she was going to be standing on the top step of the dais again. If there was a skerrick of doubt, that evaporated when she hurled the shot out to 20.47m at her first attempt, shattering her Games record.
It would be the top mark in a quality set of throws where she never failed to clear 20m. Her closest opponent, Trinidad's Cleopatra Brown, finished a further 1.44m back.
In a surprise result, Australian-based Samoan Tasele Satupai won bronze with a personal best 16.43m.
"I'm very proud that she came through and won a medal for Samoa, someone from the Pacific," said Adams, whose late mother Lilika was Tongan.
As promised, Adams plans to stay in the village until the end of the Commonwealth Games, cheering on as many athletes as she can get to see, before heading home for a well-earned break.
"I'm pretty tired, pretty shattered," Adams said yesterday. "I didn't sleep much last night.
"You're on a high and then suddenly it just drops."
Adams confessed that despite being the class of the field, she felt unusual pressure to defend the title she won in Melbourne.
"Second time round I feel the pressure is so much more on you because there's the immediate expectation that you're going to win.
"In that sense there was more pressure from the public."
It signals a happy ending to a trying year for the 26-year-old South Aucklander.
"It's the last competition of the season and it's been my longest ever season, so to come out and have a series like that, I'm [really] happy.
"The body's shutting down a bit, I'm getting run down but I came out on top so I'm just stoked, really stoked."
After the split from Hellier, Poppe came on board with the idea of re-shaping her training and modifying her technique.
The results were not immediate but by the end of a European season, in which she suffered a string of losses to Nadzeya Ostapchuk, Adams had beaten the Belarusian.
Adams shares Poppe's confidence that there is plenty left in the bag.
"Absolutely. I totally feel there's so much more to come," she said.