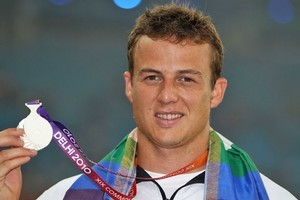 Decathlete Brent Newdick is "stoked" at winning Commonwealth Games silver after fighting cramping and tiredness near the end of the two-day event.
"I tried my best out there," he said.
"It wasn't quite enough for gold, but I'm stoked with silver."
Canadian Jamie Adjetey-Nelson won the title with a points total of 8070, while Newdick finished on 7899.
Bronze went to England's Martin Brockman with 7712.
Newdick, who was fourth at the last Commonwealth Games, moved into second place after the first event of day, dashing over the 110m hurdles in 14.79s, the third best time in the field.
Adjetey-Nelson extended his lead with 14.76s for 879 points in the hurdles, then throwing the discus 45.21m, increasing his total to 5888 points.
With three events to go, the Canadian was 202 points ahead of Newdick's 5686, with Ben Hazell of England third on 5567 after having the best discus throw of the competition, 48.01m.
Newdick put the discus out 43.43m with his first throw, got to 43.50m with his second then hit the throwing cage with his third.
He solidified his position near the top of the field with a 4.80m pole vault, clearing that height at his last attempt.
He had problems with his back during the javelin, in which threw the fourth best distance of 56.94m.
"I just tweaked something in the warm up," he said.
"I came away with an okay throw in the end and had to fight through. Nothing major, just tiredness."
He made some ground in the final event, the 1500m, his time of 4min 41.33 scoring 672 to Adjetey-Nelson's 605.
The 25-year-old Aucklander said he tried his hardest to overhaul the Canadian frontrunner during the course of the day, but to no avail.
"I was pushing, pushing, pushing, and trying for some big hits in a couple of events, but it didn't quite come off," he said. "Silver it is today."
In the heptathlon, Rebecca Wardell withdrew with a foot injury in the final event of the opening day, the 200m.
- NZPA