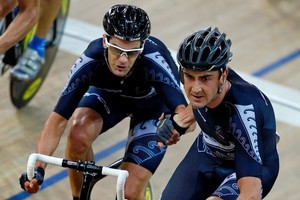 Road cycling medal hopeful Hayden Roulston has a message for his stay-away Kiwi teammate Greg Henderson: "It's not that bad."
Henderson was the first New Zealand athlete to pull out of the Commonwealth Games team for India with concerns over the S words - sanitation and security. But Roulston reassured his absent teammate, who has opted for a Bali holiday after the world road race championships in Melbourne, everything in Delhi is top notch.
Roulston was still bitterly disappointed at Henderson's decision to opt out, which came on the back of Tour de France rider Julian Dean giving Delhi the steer too, blaming tiredness.
Roulston said the New Zealand men's team's medal prospects were severely diminished, although he didn't discount a medal if the heat and a fast early pace nullified the finishing ability of Mark Cavendish, the world's best sprinter competing for the Isle of Man.
"Am I disappointed they're not here? Sure, because we were a really big shot of winning the race, no question at all. We've still got a chance but we'll have to change tactics."
Roulston said the fast, flat course would be suited to Henderson's sprinting ability, adding: "I've seen none of the issues around that concerned him.
"To me this Games is no different to any other Games. All the negative publicity was the same negative publicity that we saw before Athens and Beijing [Olympics]; it's the sort of thing the media thrives on."
Roulston will be joined by national champion Jack Bauer, Clinton Avery, time trialist Gordon McCauley and track medallists Sam Bewley and Marc Ryan in Sunday afternoon's 168km race around the streets of Connaught, New Delhi's main shopping precinct.
The women's race is a shorter 112km, the New Zealand team spearheaded by Denmark-born Linda Villumson who won time trial bronze at the world championships.
Wanganui's Catherine Cheatley, 11th at the world championships, is another top tip, with the team rounded out by Melissa Holt, Kaytee Boyd, scratch race silver medallist in Delhi, Joanne Kiesanowski, and Rushlee Buchanan.
Roulston said the road race would be dominated by those who adapted to the furnace conditions. The Kiwi riders will wear ice vests pre-race.
"It'll be the humidity that really nails people on Sunday."
Roulston has struggled in a season dominated by illness and injury.
"It would've been easy to say I couldn't be bothered, but being here with the team has given me a big lift."